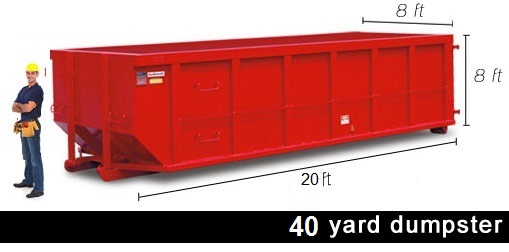 Have a question? Call Us Now!
Customer Service: 630-716-1030  – (Burr Ridge, Lemont, Bolingbrook, Naperville)
Customer Service: 708-910-4282 – (Mokena, Hickory Hills, Frankfort, Palos Hills)
Customer Service: 224-330-0360 – (Elk Grove Village, Schaumburg)
Customer Service: 219-895-0599 – (Merrillville)
40 yard
dumpster up to 10000 lbs
We understand that not every dumpster rental needs a gigantic dumpster. Our 40 yard roll off dumpster rentals is ideal for large business scale projects. If you need a smaller dumpster, because of a do it yourself project a 40 yard dumpster is perfect for your needs. If you are looking to clean out your storage, or other spaces in your business, extra large remodeling; look into renting a 40 yard dumpster. How much debris can a 40 yard dumpster hold? A 40 yard dumpster can hold forty cubic yards of debris. This is roughly equivalent to ten pickup truck loads of material. Approximate Size: 8 ft. x 20 ft. x 8 ft.  Our prices and timely service still render you a better deal than the alternative Bagster. 40 yard dumpster up to 10000 lbs of debris for business remodeling or new construction starting from $550.
If the dumpster is overnight, an extra charge of $40 per 1000 lbs will be applied. An extra charge of $25 per day or $100 a week after 7 days
Couches and mattresses are $30 each.


We offer a wide range of yard dumpsters for you to choose from.  You can always reach us online or contact us via this telephone number.