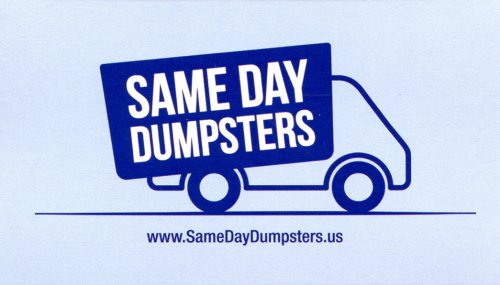 Dumpster Rental Carol Stream

You may enjoy entertaining guests on your back patio area but have noticed that your go-to space is becoming a mess.  Book a cheap dumpster rental and tear up that patio so you can begin to put fresh material down and enhance your space.  With same day delivery, that dumpster rental can be picked up quickly and hauled away so you can get back to the things that matter… having great times!
Dumpster Rental in Carol Stream
Our facility offers same day dumpster rental service in Carol Stream.  This location provides a 5 YRD, 10 YRD, 15 YRD, 20 YRD and 30 YRD dumpster for rent.  We bring the dumpster via our company trucks and retrieve them when your rental time is complete.  We also provide boards to protect your driveway or surface area.
Same Day Dumpsters is a family owned and operated company that has been serving the Carol Stream area for several years.  We pride ourselves in offering high-quality dumpsters quickly and efficiently to serve any request.  Whether you have a planned construction project or find yourself needing a cheap dumpster that afternoon because your basement flooded, we have you covered.  Our Same Day Dumpster Rental team go the extra mile to make sure you and your projects are top priority.
Carol Stream Dumpster Rental
Conveniently located in Burr Ridge, Illinois, we are able to access the Carol Stream area with lightning quick speed.  We have experience serving the needs of fellow Carol Stream residents such as yourself and are easily adaptable to any dumpster rental request you may have.  Our team is geared towards making your project a success and we strive towards making the time you rent a dumpster as easy and stress-free as possible.
Same Day Dumpsters – Why Choose Us?
Same Day Delivery
Immediate Response from Our Team
Affordable Rates
Impeccable Customer Service
Family Owned and Operated
Exemplary Products
Residential Dumpster Rental – Carol Stream
No matter if you are doing a simple remodeling job, a large landscaping project or your basement just flooded and you need to get rubbish and ruined items out fast, Same Day Dumpsters has you covered.  Our team provides an immediate response to accommodate your needs so you will always have that dumpster rental when you want it.  Kitchen renovation, garage tear-down, window replacement, roofing debris – there is no job too big or too small for our dumpster rental company.
Commercial Dumpster Rental – Carol Stream
If you are a contractor or construction company finding yourself in need of a dumpster rental company in Carol Stream, give us a call.  We can accommodate your large renovations, new building project and demolition rubbish removal needs.  Our variety of dumpsters can handle your industrial materials and concrete debris.  With same day dumpster rentals, we can have that container in and out of your job site quickly and efficiently.  So, no matter if you are doing a large commercial roof tear-off or tearing up a foundation, Same Day Dumpsters can help get the job done.
Call Today For Your Free Dumpster Rental Quote!
Don't let your project stress you out, give us a call and let Same Day Dumpsters help get you started right.  No matter the project size or the time parameters, our experts can get you set up and tackle any questions or obstacles you may be faced with.  With affordable dumpster rentals and same day delivery, how can it get any better?
STORAGE CONTAINERS IN CAROL STREAM
Same Day Dumpsters also offers portable storage solutions for the Carol Stream area.  Our 47 yard storage containers are perfect for any space saving needs you might have, such as: moving, clean outs, remodeling, landscaping, construction, retail, office, industrial, etc.  Whether you need to store product, material and equipment out of the way or simply need to make room in your attic or basement, our high-quality container can help.  To find out more about what our storage container can do for you, click here STORAGE SOLUTIONS.