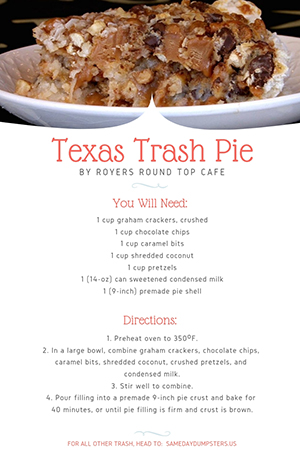 You Will Need:
1 cup graham crackers, crushed
1 cup chocolate chips
1 cup caramel bits
1 cup shredded coconut
1 cup pretzels
1 (14 oz.) can sweetened condensed milk
1 (9 in.) pre-made pie shell
Directions:
Preheat oven to 350 degrees Fahrenheit.
In a large bowl, combine graham crackers, chocolate chips, caramel bits, shredded coconut, crushed pretzels and condensed milk.
Stir well to combine.
Pour filling into a pre-made 9 inch pie crust and bake for 40 minutes or until pie filling is firm and crust is brown.
Have Any Other Trash Type Recipes?  Let Me Know In The Comments Below!
Like This Post?  Click the Facebook Button Below.