Which is better – a dumpster or a bagster?  This is the question on everyone's lips when they decide to do a project or start removing junk from a location.  Honestly, the answer may surprise you but it all simply comes down to what your project is.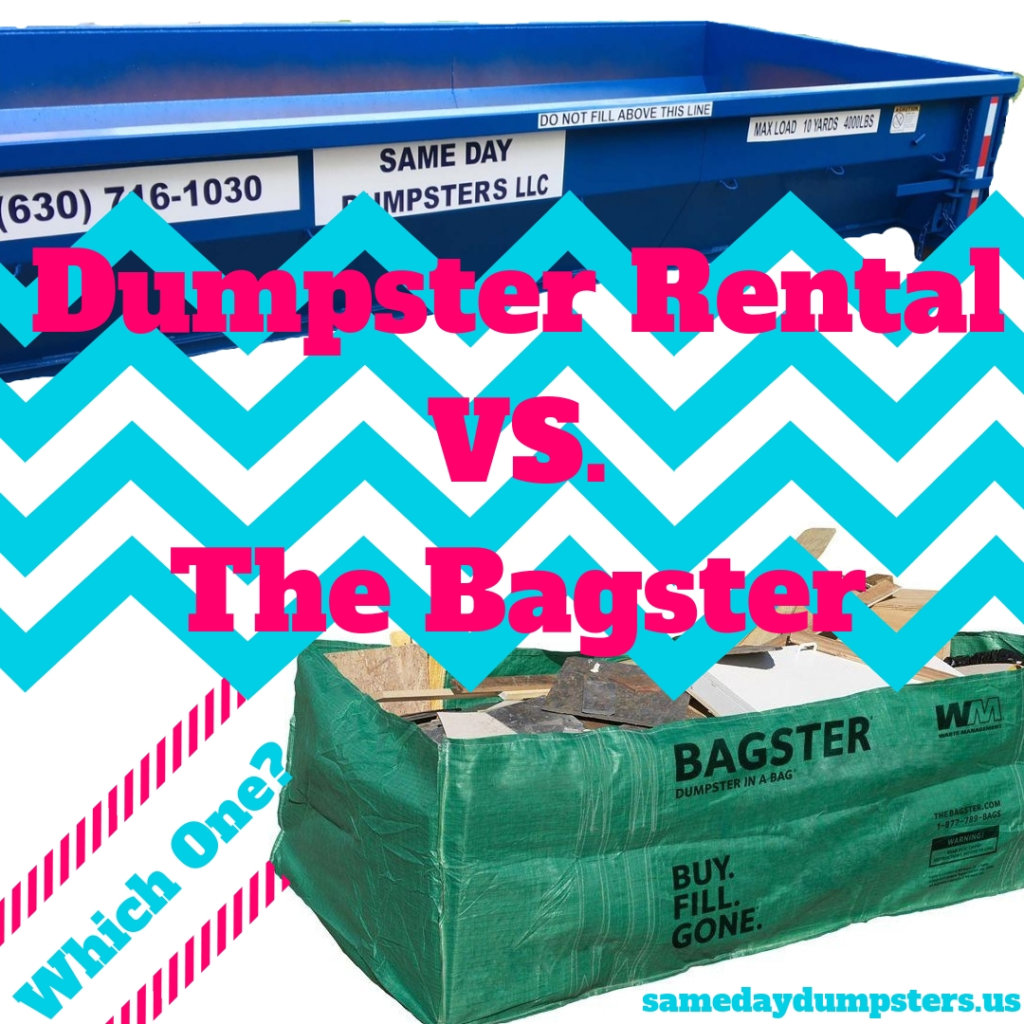 What Is A Bagster?
A Bagster is a newer entry into the junk removal or renovation arena.  It's a small bag made of tough woven material that can substitute for a traditional dumpster.  They must be purchased first and then you bring them to your project site.  They are available online or at your local home improvement stores and must be picked up through Waste Management.  While a Bagster may run cheaper than a dumpster rental, there are significant details one should consider before using one.
Durability
Bagsters are made of a tarp-woven like material and come with two handles.  These handles allow a small crane component to pick up the bag and place it on the truck during removal so you know it's a tougher material for use.  However, a Bagster can only hold up to 3,300 pounds (a little more if filled correctly) while a standard dumpster can hold anywhere from 1 to 3 tons or (2,000 to 6,000 pounds).  For this reason, Bagsters are better suited for small clean outs or simple junk removal jobs.
You also have to be mindful of sharp materials such as metal, nails and screws.  You should place items carefully within a Bagster to avoid tearing or poking holes into the material.  A traditional dumpster is made of metal construction so you don't have to worry about ruining the rental.
Waste Not
Another consideration when choosing between a Bagster or a dumpster rental is to consider what types of materials will be going into them.  The main consideration here is the size of your space.  Because the Bagster is lower to the ground, larger, bulkier items, such as couches or furniture, will not fit so well.  They are more ideal for small amounts of garbage or drywall/construction waste.  The Bagster space is smaller so you may need to cut down some of your waste in order for it to fit and to free up more room.  When packing a Bagster, plan on lining the walls with appropriate size debris in order to keep the walls from falling in and to hold the rectangular shape.  Size is the only true limitation of the modern Bagster.
As far as what kinds of waste are not allowed, this is the same for both dumpsters and Bagsters.  For a list of prohibited materials, check here.
Makes Cents
The initial purchase of a Bagster is only $30 but there is an additional charge for pickup.  The pickup cost varies greatly depending on the area in which you live.  The price can vary greatly between $120 to $310.  You can check with the Bagster site to find out how much it would cost for Waste Management to pick up in your area.
A dumpster rental price is all inclusive.  The price you pay is for use of the dumpster and the pickup.  The only time you could ever incur additional fees is if you go over the weight limit posted on the outside of the dumpster, if you left a mess around the dumpster that the crew needs to clean up or if you tossed hazardous materials into the dumpster.
Pick Me Up!
When you are finished with your Bagster, you contact them to schedule a pickup.  Since it is Waste Management that collects them, you may have to wait a few days until they are in your area and you are added into the rotation schedule.  With dumpster rentals, you call and schedule pick up for whenever you would like.  If you need it gone that afternoon, your local dumpster rental service can comply.  A dumpster rental is usually up to 10 days so you can have it picked up anytime before then or simply have it collected after those 10 days.
In either situation it is best to place your container in an open space so the hauler or Waste Management vehicle can access them for pickup.  Don't have the rentals obstructed by objects or placed in tight access-ways.   You will also want to have at least 18 feet of space above your container so both the WM crane and dumpster rental hauler can easily retrieve the rentals.
In the end, the choice between a Bagster and a traditional dumpster rental all comes down to your project.  Bagsters are ideal for smaller clean outs or projects that have debris removal that is 3 yards or less.   Dumpster rentals are great for home improvement and/or construction projects, large furniture and yard waste jobs such as cutting down several trees.  Despite the material, price point and pick up schedule, the choice is going to come down to how big your project is.  If you have a project that will be producing a significant amount of debris, you should consider renting a dumpster.
If you are still unsure of which one to pick, you can contact Waste Management or your local dumpster rental service and they can guide you on what works best for your specific project size and your budget.  It's better to utilize these resources and ask questions now than to be trying to juggle these issues while in the middle of your project.