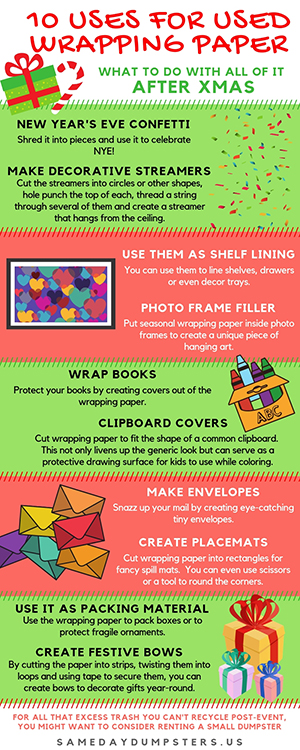 10 Uses For Used Wrapping Paper
What To Do With All Of It After Xmas
New Year's Eve Confetti – Shred it into pieces and use it to celebrate NYE!
Make Decorative Streamers – Cut the streamers into circles or other shapes, hole punch the top of each, thread a string through several of them and create a streamer that hangs from the ceiling.
Use Them As Shelf Lining – You can use them to line shelves, drawers or even decor trays.
Photo Frame Filler – Put seasonal wrapping paper inside photo frames to create a unique piece of hanging art.
Wrap Books – Protect your books by creating covers out of the wrapping paper.
Clipboard Covers – Cut wrapping paper to fit the shape of a common clipboard.  This not only livens up the generic look but can serve as a protective drawing surface for kids to use while coloring.
Make Envelopes – Snazz up your mail by creating eye-catching tiny envelopes.
Create Placemats – Cut wrapping paper into rectangles for fancy spill mats.  You can even use scissors or a tool to round the corners.
Use It As Packing Material – Use the wrapping paper to pack boxes or to protect fragile ornaments.
Create Festive Bows – By cutting the paper into strips, twisting them into loops and using tape to secure them, you can create bows to decorate gifts year-round.
For all that excess trash you can't recycle post-event, you might want to consider renting a small dumpster from the Burr Ridge dumpster rental company.