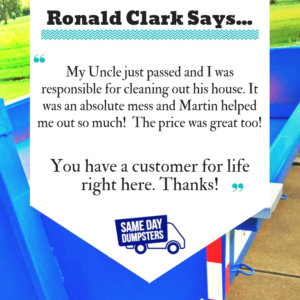 "My Uncle just passed and I was responsible for cleaning out his house.  It was an absolute mess and Martin helped me out so much!  The price was great too!  You have a customer for life right here.  Thanks!" – Ronald Clark
At Same Day Dumpsters we believe that business should be about care, compassion and offering amazing services.  We strive to help each and every client achieve their ultimate goal.  Whether it is a whole new roof project or dealing with the aftermath in the wake of losing a loved one, you need a company you can rely on who will make the extra effort to relieve as much stress off of your shoulders as possible.
Our business is built around people and the unique circumstances they come to us with.  Every situation is different and requires trained, knowledgeable professionals who put them first.  No matter what life throws at you, you need to know the people you work with are ones you can count on.
With locations in Burr Ridge, Mokena, Elk Grove Village, Hickory Hills, Lemont, Bolingbrook and Naperville, we are able to reach our clients faster and offer even more product than ever before.  Each location offers 5, 10, 15, 20 and 30 yard dumpsters available for rent with the same great service and same day delivery.  No obstacle is too big or too small for our staff who make it a point to make sure each customer is completely satisfied.
Thank you, Ronald, for such kind words and you bring up an excellent point.  We don't just have clients who are customers.  Our clients become part of the Same Day Dumpster family.