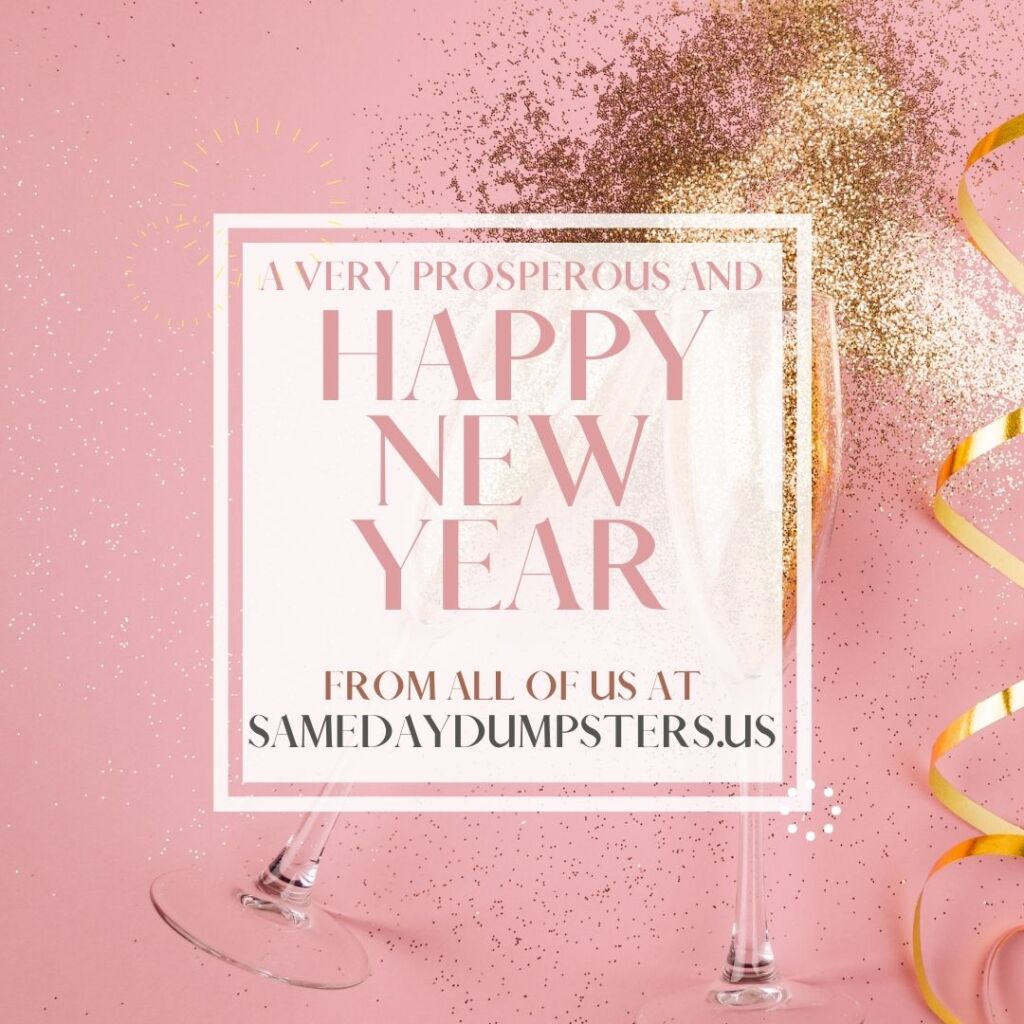 Wishing You And Your Family Health, Wealth And Happiness In The New Year Ahead!
No one could have predicted the year we have had.  Instead of focusing on the negative, we will all push forward and embrace a new year full of promise and opportunity.  One thing we are all eager for is the chance to start over with a clean slate.  Whether you decide to clean out that cluttered basement or tackle that bathroom remodel, the new year is a great time to focus on finishing up those long-forgotten projects.  With a variety of sizes, high-quality equipment and same day delivery, Same Day Dumpsters is looking forward to another year of servicing the Chicagoland area.  From small clean outs, remodels and landscaping to large commercial construction, roofing and much, much more, we strive to provide amazing dumpster rental service and exceed expectations.  Contact us to find out how we can help you kick off your new year with a fresh start!
Check out our Top 5 articles of 2020…
Renting A Dumpster In Winter Is Awesome!  Our quick vid points out some benefits that might surprise you but will certainly save you the hassle of battling the spring crowd.
Many folks don't realize that your town may require a permit to have a dumpster on your property.  Check out these quick tips on saving time and money with Dumpster Permits.
When you've finally settled on a company and scheduled your dumpster, it may seem like there's nothing left to do.  To avoid issues during delivery of your dumpster rental there are definite easy tasks you can complete prior to the driver arriving.  Take a look at our guide on How To Prepare For Dumpster Delivery.
Sometimes a project can get away from us and become bigger than we imagined.  Instead of worrying about wasting money on overfill fees, packing your dumpster efficiently from the start will make the most out of your space.  These Dumpster Packing Tips are simple to follow and could end up saving you big money in the end.
Hey Illinois – Did You Know E-Waste Is Illegal?  We don't often consider what we're tossing into that dumpster but it turns out you might be breaking the law by throwing out many common electronics you have around the house.  Read our quick tips to understand what you can and can't scrap.
We Hope You Achieve All Of Your Goals In 2021 – Onwards And Upwards!
To speak with our Burr Ridge Same Day Dumpsters Rental specialists about booking a dumpster, call 630.716.1030 today!