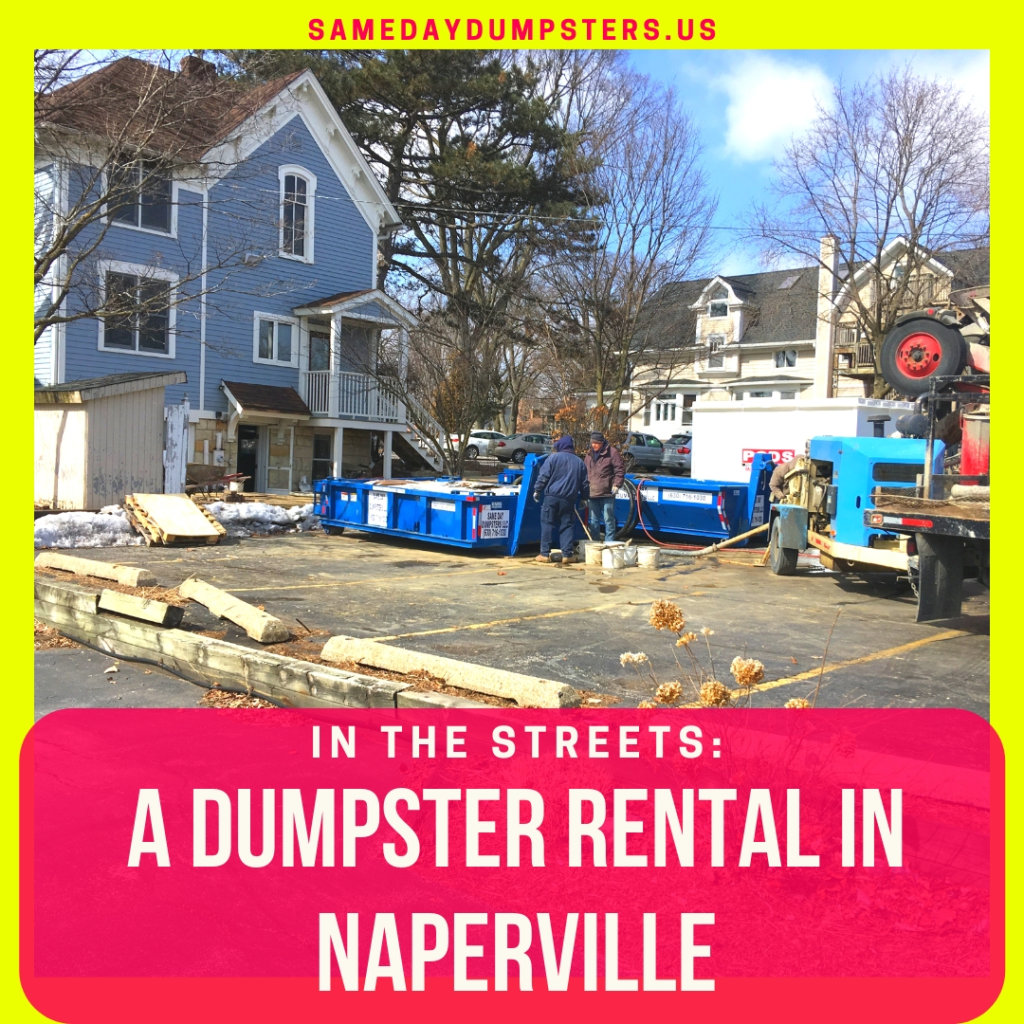 In The Streets: A Dumpster Rental in Naperville
Today's "In The Streets" project highlight comes from Anthony Williams who was working on a home in Naperville.  A repeat customer and suburban house flipper, Anthony uses Same Day Dumpsters for all of his jobs.  From small clean outs to massive gut rehabs, he has used several different dumpster sizes over the last couple of years.
For this particular project, Anthony wanted to show us our dumpsters hard at work in the middle of a rehab.  A section of the basement floor was torn up to replace faulty piping and never repaired so that was a huge item on his fix list.  Over the course of a few months, Anthony had contractors replace faulty wiring, plumbing and renovated the kitchen and bathrooms.  With a little paint for each of the rooms and restoration of the beautiful antique hardwood floors, the rest of the house just needed a little spruce up.  It isn't clear what Anthony has done or will do with the property – sell or hold as rental property – but we wish him the best with this and future endeavors!
Anthony had originally come to use Same Day Dumpsters by comparing prices and services in his area.  After deciding we were the best fit for his project, he scheduled his first dumpster delivery with us.  Fast forward to nowadays and he still chooses the reliable blue dumpster company time and time again.  We are so grateful to have such a fantastic working relationship with him and are humbled that he continues to utilize our services after all this time.  A huge thank you to Anthony for sharing this picture and to all of our clients for allowing us to ride along on their journey!
We LOVE to hear what projects you are using a Same Day Dumpster for so send us a photo!
Would you like to submit a photo for your chance to be featured in our "In The Streets" series?  Please leave a comment below or use our contact form to reach us and let us know!
If you are ready to tackle your next big project and need a dumpster rental in Naperville, find out how we can be of service to you!