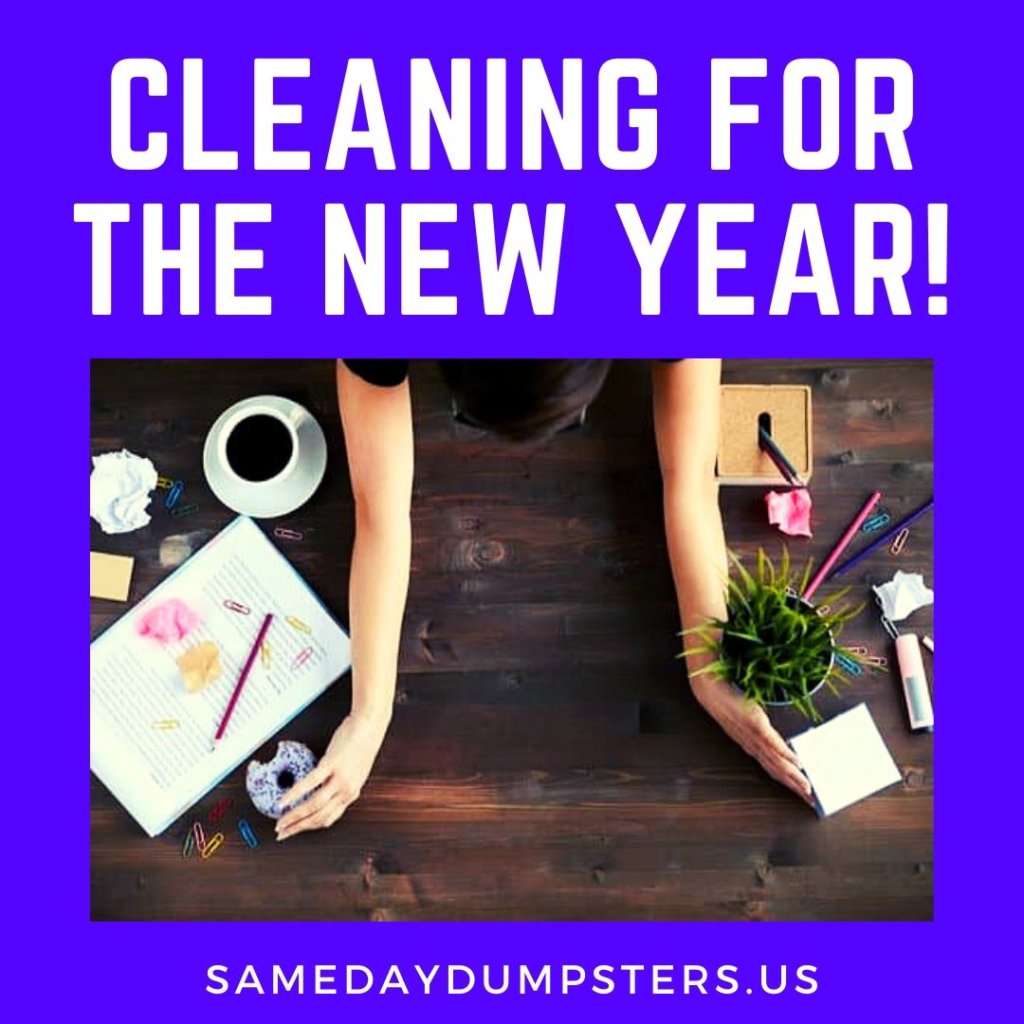 What was your New Year's Resolution this year?
There are so many personal resolutions made and a vast majority of them orbit around organizing better and getting rid of clutter.  It can be very easy to become overwhelmed and give up before you ever really start but the longer it sits unattended, the worse the problem becomes.  By taking action, you are one step closer to a clean home!
Starting Line – Decide what needs to go.  What area is most problematic?  Need to clean out the attic or garage?  Need to remove all of the junk from a guest bedroom?  Is it yard debris or construction materials hanging around your property?  You have to decide what the major issue is because that is where you start.
Check out our article on How To Start Organizing for more tips!
Schedule – Hold yourself accountable.  Procrastination is inevitable for all humans in some way, shape or form but when you put yourself in the line of sight, so to speak, you are more likely to get moving.  Sit down with a calendar and check you and/or your family schedule.  Pick a couple of days, whether a weekend or during the week, that you have nothing in particular going on and can devote to tackling that junk.  If you can't seem to find free time, realize it's an excuse.  There should be an event or two that CAN be rearranged to allow you the time to conquer the clutter.
Go a step further and book a dumpster.  By scheduling a dumpster for those days, you are now accountable for completing the task.  Why?  Because you are paying for that dumpster so it would be unwise to let that money and the opportunity it's giving you to go to waste.
What Goes – Here's where everyone gets stuck.  What should be tossed?  If it's broken, missing key pieces or you haven't used it in over a year, toss it.  Of course, recycle what you can or offer it up to friends and family but cling to it and let it weigh you down.  Unless it is a collectible, is commonly used or holds deep sentimental value – it shouldn't stick around.
If you still need a little help on how to decide what stays or which areas you might just overlook, take a peek at our guide on Organizing Your Home!
Pile It Up – A great way to prepare for the day your dumpster arrives, or the day you plan on tackling the problem area, keep piling the junk you are getting rid of into a pile.  This will make it easier to toss everything away when your dumpster arrives and save you valuable time.  While perfect for those spaces where you are merely thinning the herd, if you plan on tossing everything in eyesight out, just make sure you have enough hands to help you fill that dumpster.
Neighborhood Event – Don't think you can fill a dumpster on your own?  Want to save money on renting a container?  Another wonderful way to reduce clutter, save money and bond better with your neighbors is to organize an event for your block.  Talk with neighbors and see who would like to go in on a dumpster with you to get rid of junk.  If you have several people willing to go in on one with you, what ends up coming out of your pocket is drastically reduced.
Recycling – The best part is that a majority of dumpster rental companies will take containers full of a certain type of material, such as paper/cardboard, to recycling facilities for you.  Before you schedule a dumpster, ask the company if they provide this service and let them know what your load will consist of.  This isn't something to worry about if the majority of your load is material that can only be tossed.
A new, clean home that is devoid of clutter awaits and all you have to do is contact your nearest dumpster rental company to get started.  Kick off your year by making a resolution to rent a dumpster and say goodbye to junk!
To find out how our dumpster rentals can help you, give us a call at 630.716.1030 or click here >>> Same Day Dumpsters!