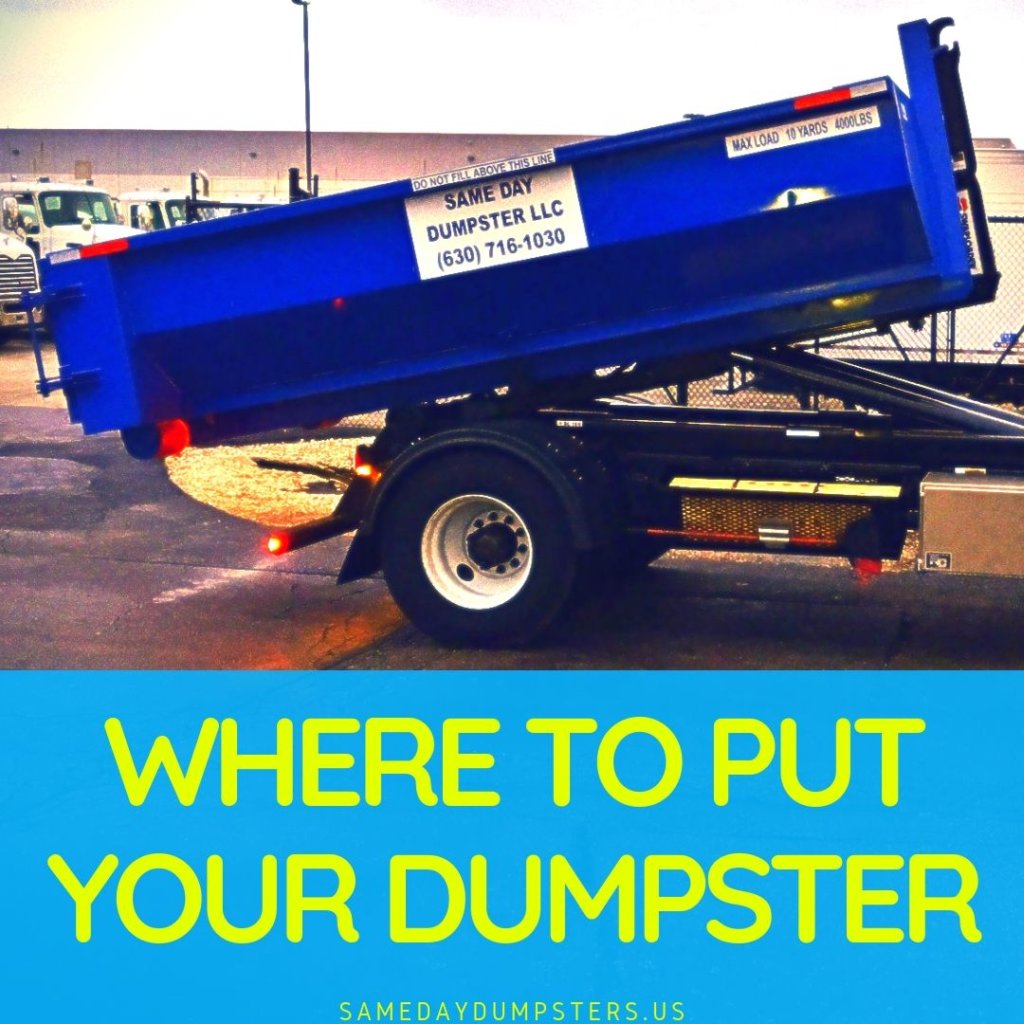 Whether it is monetary or time-consuming, a mistake can take the wind out of your sails.  One of the best defenses against most mistakes is simple knowledge.  The more you know, the less likely you are to find yourself in a jam.  When it comes to renting a dumpster, one of the most overlooked decisions is where to put it.  There are quite a few factors that you should consider before your driver arrives.
The Best Spot To Drop
A hard, flat surface is THE most ideal spot for you to place a dumpster.  In many cases, this is probably a driveway or parking area.  Before you make the final decision, you need to ask yourself a few questions.
Are You Blocking Any Doors?

  While a dumpster rental may fit snugly onto your driveway, figure out if there are any doors that you may need to access during the rental period.  If you need to grab that snowblower, lawnmower or sports equipment, make sure you didn't wedge the dumpster in too close to your home, garage or neighbor's structures.

Can You Get Your Car In And Out? 

Make sure you can still get a car around the dumpster.  You definitely don't want to find out 10 minutes before you have to head out to work that your car is trapped.

Are You Blocking Any Views?

  If you have to place the dumpster near the end of the driveway, make sure you are not blocking any pedestrian or motorist views.  This could create a dangerous situation.

Do You Have Room For The Walk-In Door To Open?

  Many dumpsters come with hinged doors that open and allow you to walk in heavy or bulky items.  Be sure that you have plenty of room for that door to swing open.  If near a street, check that the door doesn't swing into traffic or could potentially injury a pedestrian and/or vehicle.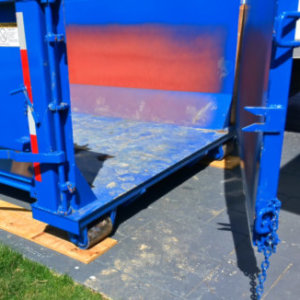 Property Damage
One of the biggest concerns involving a dumpster rental is potential property damage.  Be it from where the weight of the dumpster distributes or weather conditions taking it for a ride, you should always take precautions to minimize risks.
Plan Your Route

– While placing your dumpster in a safe area is key, you need to consider the foot path you must take to get to it.  While cleaning out debris, will you have to tread across your lawn?  Maybe traverse those beautiful rose bushes?  Try to keep to concrete/asphalt paths when making trips to your dumpster.  If you can't avoid trekking across your beautiful grass, try to put down plywood and create a walkway to reduce damage.

Protect Your Driveway

– Every dumpster rental company should bring protective boards to place underneath your container to preserve your driveway from scratches or other damage.  Make sure you inquire about this BEFORE you schedule a rental.

Avoid Sloping Surfaces

– If you start to load your dumpster on a steep surface, you can find yourself with a runaway bin.  The weight of debris can cause the dumpster to slide off of your driveway into streets, cars, pedestrians or property.  This is especially dangerous in winter when the slope might be covered in ice or frost and has an increased chance of skating.  You should always try and place your dumpster on a flat surface.

Soft Ground

– You never know what is underneath your heavy dumpster if you place it on soft surfaces.  If you have an irrigation or septic system, be cognitive of where the sprinkler heads and underground plumbing might be.  The weight of a dumpster could cause a massive cave-in that can severely damage your systems and cause an expensive and gross problem.

Neighbor's Property

– Be sure your dumpster rental is safely on your property alone.  Not only will it aggravate your neighbors if you do it without their consent but you might damage their lawn or structures.  You could also create a dangerous situation by blocking them in or obstructing their view.  Avoid a scenario where the authorities get involved or you are on the hook for a heap of expenses – place it on your side!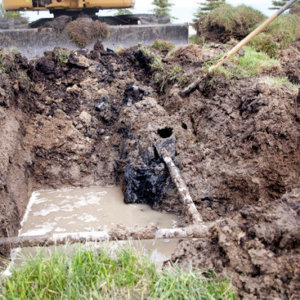 Permission and Permits
You may find that the most ideal place for your dumpster is on the street.  Whether this is because you live in a bustling metropolis or because your ground is too sloped or soft to accommodate, you are going to need to seek permission.  More often than not,
you will need to have a permit to place a container
on a city street.  Your town/city hall can provide you with a permit and more information about your project.
Some places even have rules on
how long you can keep your dumpster on the streets for
.  This is a case of better safe than sorry and you should always ask your city hall first.  Paying a small fee for a permit and understanding the rules can save you from forking over massive fines later on.
If you find yourself with a very limited time for your dumpster rental, don't stress.  Go through your debris and set aside
hazardous materials that have to be disposed of responsibly
.  Have all of your wrecking or clean out complete before the dumpster is scheduled to arrive and then neatly pile the rest of your debris near the closest project exit.  When your dumpster is delivered, you can focus on filling it and not waste any precious time accumulating rubbish.

Account For Size
Something else to consider in placing your dumpster rental is the size of the dumpster and clearance room for the driver to drop off and pick it up.  Make sure there are no low hanging tree branches or wires that a dumpster can snag on when being loaded and unloaded from the trucks.  While dumpster sizes vary, make sure you have at least 10 feet around all sides of the dumpster and 20 feet above for the driver to be able to leave and receive.  Also avoid corners or obstacles that will make it hard for the driver to maneuver around to secure the dumpster.
By following these simple guidelines, you can greatly reduce the chance of hazards or accidents occurring because of your dumpster rental.  Where you place your dumpster rental is just as, if not more, important as what you put into it or how long you might need it for.  Taking a few minutes to ensure a prime place for your driver to drop off is key to any successful rental.
If you are still not sure on where the ideal spot to place your dumpster rental is, please contact Burr Ridge dumpster rental and have them help locate one for you.
Be Sure To Share This Post!