The Same Day Dumpsters 5 Yard Commercial and Residential Dumpster Review…
How Big Is A 5 Yard Dumpster?
A 5 yard dumpster rental holds 5 cubic yards of debris.  This would come out to 1 to 2 pick up truck loads or 20 standard garbage cans full of trash.  A 5 yard dumpster rental is perfect for small residential or commercial use and is most popular as a lowboy or a typical alley dumpster.  Lowboys are designed to have shorter walls and no roof for easier access and maintenance.  Most 5 yard dumpsters are used for a short event, smaller renovation or project with a quick time frame.
This type of container is ideal for small projects with both light and heavy debris types.  One of the best uses of a 5 yard dumpster rental is when you have a pipe burst or flooding in your basement and need a room full of items hauled away.  In such cases, contact your local dumpster rental company and they will have a 5 yard bin your way as soon as possible.
How Much Does A 5 Yard Dumpster Rental Cost?
A 5 yard dumpster rental can cost anywhere from $200 – $350 based on the region in which you are located and the companies serving that area.  Same Day Dumpsters offers a 10 day rental period for $250.  It's a good idea to call around to different dumpster rental services and compare pricing.  Ask if they offer discounts to seniors or military as well.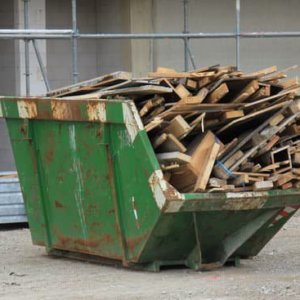 What Kind of Projects Can A 5 Yard Dumpster Typically Handle?
A 5 yard dumpster can be used for small residential and commercial projects.  Here are a few examples of the types of projects that a dumpster of this size can help efficiently.
5 Yard Residential Dumpster
Single Room Remodels
An Attic, Basement or Garage Clean Out
Floor Removal From Small To Medium Sized Room
Removing Smaller Yard Debris
Moving Clean Ups Or Clean Outs
5 Yard Commercial Dumpster
10 to 15 Square Roofing Job
Small Porch Removal
Concrete Repair Jobs
Trimming Trees/Shrubs and Small Landscaping Jobs
Restaurant And/Or Business Trash
Construction Clean Up And Material Holds
While by no means a complete list of uses for a 5 yard dumpster rental, this list can give you a clear picture of what this size can accommodate.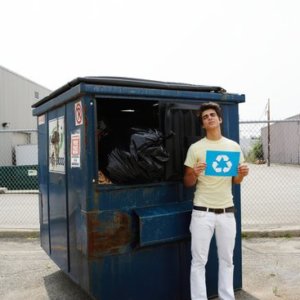 How Do I Know If I Need A 5 Yard Dumpster?
Usually you would consider renting a 5 yard bin if you have a smaller project that will produce a bit more trash and debris than what you can safely throw away in regular garbage cans or would be too much for your waste management company to haul away.  While on the smaller side, these dumpsters can still hold nearly 5 tons of debris so don't be shy about disposing of the following material types:
Concrete
Brick
Asphalt
Sod
Dirt
Rocks
Cinder Blocks
Stumps
Sand
Of course you can toss nearly other type of rubbish in a 5 yard dumpster as well but be aware that there is a universal list of hazardous materials or prohibited items that can NEVER be placed into a dumpster rental, no matter where you live or what company you use.  Check with your dumpster rental company to ask about weight limits on heavier debris.  They should have plenty of experience in this industry and be able to tell you about how high most materials will stack safely without incurring any penalties or fees.
Extra Dumpster Rental Tips:
When choosing a dumpster rental company near you, the most important thing you should look for is how they communicate with you.  This is crucial because not only does it reflect how you will be treated but how any problems that may arise might be handled.  You want the best service possible to ensure a successful rental.
Many townships and cities require a permit for you to have a dumpster on the street or even in your driveway.  Call your town hall to find out if you definitely need one, how much it would be and how to go about filing for one.
It may seem daunting to try and fit all of your debris into a dumpster without overfilling it or causing a safety risk but it can be done if you sort items correctly and stack them in specific ways.
Find A Dumpster Rental Company Near You That Offers 5 Yard Dumpsters
Always do a bit of research before you choose the best dumpster rental company for you and your project needs.  Search engines and word-of-mouth are great ways to find a reliable service.  Be sure to call around and speak with several different companies so you can gauge how they treat you, how knowledgeable they are and how quickly they might be able to resolve issues.  You can always read Google reviews about a company or check their status with your state's Better Business Bureau.  It may seem silly to do research about a company that is dropping off a dumpster but you will don't want to be left hanging or lose money if a problem occurs that needs immediate attention.