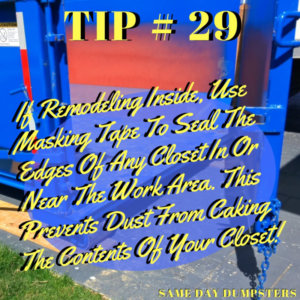 If Remodeling Inside, Use Masking Tape To Seal The Edges Of Any Closet In Or Near The Work Area.  This Prevents Dust From Caking The Contents Of Your Closet!
What many people don't realize is that even though you section off the area of your house that is being remodeled, the tiniest gaps or crevices can allow loads of dust and debris particles to spread.  To truly contain remodeling and renovation debris, you have to make sure that there are no holes for escape.  Use masking or duct tape to secure tarp edges to floors, ceilings and walls.  Consider using a self-adhesive zipper as the only entry/exit into the area.  The more you seal, the less mess is left on the rest of your home.
Closets are especially susceptible because most people believe that simply keeping the doors shut will protect contents inside.  This is not the case.  That small gap between the floor and your door will cause so much of the construction dust to saturate and cake onto everything contained within.
By sealing every gap now, you will save yourself from having a massive, painstakingly detailed clean up later.
This week's helpful hint comes from the folks at your Lemont Dumpster Rental – be sure to stay tuned each week for more!