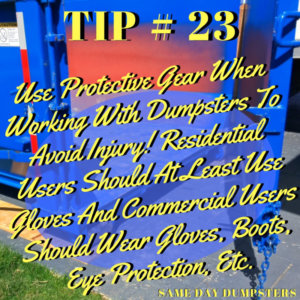 Use Protective Gear When Working With Dumpsters To Avoid Injury!  Residential Users Should At Least Use Gloves And Commercial Users Should Wear Gloves, Boots, Eye Protection, Etc.
When you are dealing with projects that cause for demolition or the removal of debris and garbage, you should always have gloves on as a basic form of protection.  Handling sharp, jagged objects can result in severe injury.  It especially helps in colder weather so you protect your hands from sticking to metal debris.  Depending on the type of garbage present, there may even be the risk of contamination that can be prevented by simply protecting your hands.
Commercial jobs or even construction sites pose a more drastic type of threat.  Steel-toed boots should be worn to avoid severe injury to toes in case materials slip and fall onto your feet.   Thick pants or even coveralls should be worn to prevent being poked or stabbed as well.   Eye protection or hard hats are usually reserved for construction sites where larger structures and materials are in play.  And, of course, gloves are a MUST on any project.
While all of this may seem like common sense, most people don't associate throwing debris into a dumpster as part of the hazards on a job site.  Unstable materials can bounce around and obtrusive items might hang over edges.  All of this protective gear can help keep you intact when you aren't focusing on the underlying dangers of rubbish removal.