The Ten Craziest Things You Can Do With A Dumpster
10.  Nightlight, DJ Rave Party or Art?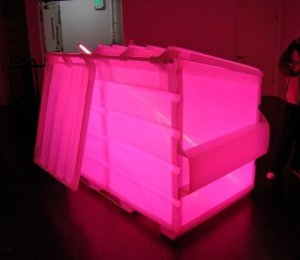 How about all three?  While eye-catching and definitely a nice ambiance for a backyard hideaway, you can also stick a table in there and create an instant DJ booth for your next rave-esque mixer.  It also stands alone as a fascinating art installation.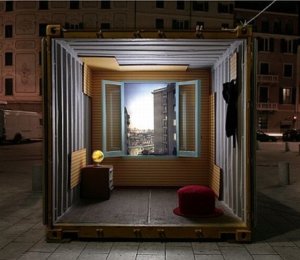 Many old dumpsters and shipping containers are being used as mobile art galleries.  Showcasing modern works and even selling art, these galleries are becoming the new trend in chic urban landscapes.  The best part is that, if you are an artist looking to feature your work, you can take your wares anywhere.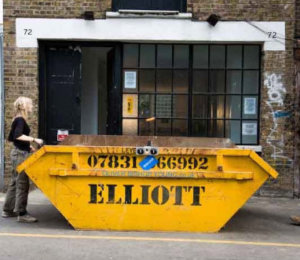 Place a board over the top of a dumpster and you can turn it into a game room of epic proportions!  Slap up a net for some ping pong or paint markers on a board and wax it for a mini shuffleboard table.  You can even use scraps of wood and create an arcade basketball court right in your dumpster.  It's a perfect portable game room, social hub for your community or even a conversation starter at your next backyard bash!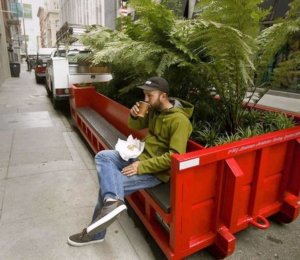 Many cities, such as San Francisco, are recycling old dumpsters into beautiful garden spaces.  Being portable, these mini ecosystems can add green space to any concrete jungle.  Not only is it a refreshing sight for residents, a stress-reliever and a breath of fresh air (quite literally), think of the positive impact this has on our environment.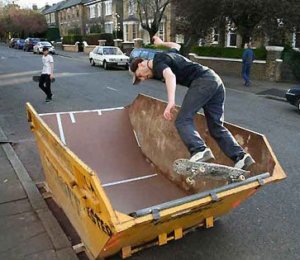 Skaters rejoice!  You can bring a skate park with you wherever you go.  Fitted with wood and materials to create the best curve possible, this project can be done using almost solely recycled materials.  Great for parties or when you've been banished to your backyard, this is a quick fix for a skater in need of ramps.
5.  Bars And Social Clubs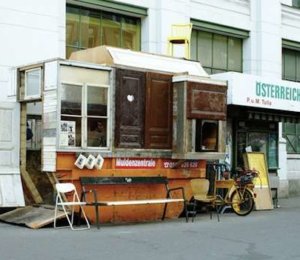 Some dumpsters are actually being retrofitted as small cafes, bars and social clubhouses.  A Dutch design duo demonstrated this perfectly when they used other recyclable materials to construct several local meeting places.  Live music, community events are hosted there and even small restaurants can be found inside of old dumpsters.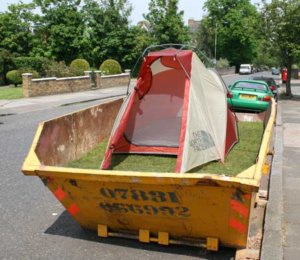 Add some dirt, roll some sod on top of it and –
VOILA!
– you have a small yard.  You know what small green spaces are ideal for? 
CAMPING!
  Slap a tent up, tell some ghost stories and camp out underneath the majesty of the night sky.  You can also put some benches up there, maybe even a potted plant, and make a neat little social hub for your neighborhood.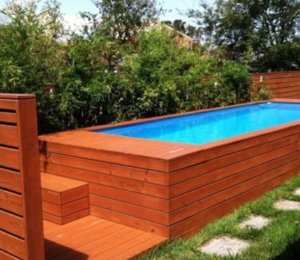 Large dumpster rentals or shipping containers are being converted into luxury swimming pools on urban streets and in suburban backyards.  The insides are either painted or lined with durable materials and a small hole is cut into the side for filter systems.  You can slap a pool ladder over the side or build a gorgeous deck to cap off your refreshing addition.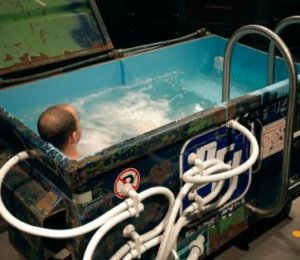 Using smaller dumpsters commonly found in alleyways, folks are painting the insides and hooking up hot tub systems.  While some are not very pretty, as the one pictured, others are glamorous additions to backyard retreats.  The point is that they work, they use recycled materials and they can save you a boatload of money.  Bonus points if you keep the wheels on and make it a rolling hot tub!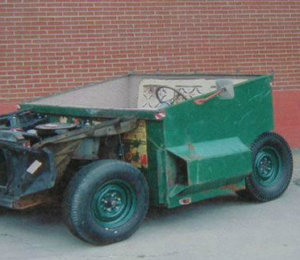 A simple dumpster turned into… a competitive drag racing car?  Yep.  This dumpster serves as the cockpit for the "Trashanova" dragster.  Surprisingly quick, this durable powerhouse really heats up the strip!
Be Sure To Share This Post!