A Colossal Dumpster Rental Problem
8 Tons Of What?!?
In May of 2018, a San Diego man spent ten hours hauling dirt into a 20 yard dumpster using a bobcat.  It was over a sweltering Memorial Day weekend and Beau Weaver was in the process of landscaping his yard by putting in turf and a new tree.  After the exhaustive project was over, he called the dumpster rental company to come retrieve the container completely filled with dirt.  When they arrived, they refused to take the dumpster.
According to the driver, the company gave him the wrong size dumpster and it was too heavy to haul away.
The Wrong Size
The company told Mr. Weaver that there was a miscommunication between him and the sales representative which resulted in an improper size being delivered to his San Diego home.  They told him that they would be happy to bring him the correct size for free but he needed to transfer the dirt into the new container.
He asked if the company was going to pay the $200 for another bobcat rental and compensate him for the four to five hours it would take to move all that dirt since it was their mistake to begin with.  Their response?  "Absolutely not.  It's your problem."
Angry And Stuck
Mr. Weaver was stunned at their response.  The dumpster company brought the wrong container to his home and claimed it was his fault because he wasn't clear with their sales representative.  The dumpster company refused to budge on this issue or offer a solution and, so, the 8 ton behemoth of earth sat in his driveway for months.
At this point, Mr. Weaver was beyond angry at their lack of compassion or responsibility and the fact that they were simply leaving the debris on his property.  A simple project that took such a disastrous turn makes you wonder: what went wrong?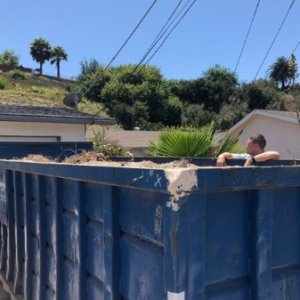 Customer Service Nightmare
This has become a case of he said – they said.  How do you prove who was at fault?  Did Mr. Weaver not explain his project clear enough for the rep to recommend the correct size dumpster?  Did the company simply make a colossal mistake and send him the wrong size?  Unless every interaction Mr. Weaver had with the dumpster company was recorded, how do you prove who is guilty?
Sadly, this is a situation that can't be resolved simply.  Someone has to budge.
Either Mr. Weaver needs to move the dirt himself and get both dumpsters out of there or the company needs to take responsibility for this situation, agree that the customer is usually right, and either move the dirt themselves or provide the tools and labor necessary to do so.  This might be a situation that even makes it to court where a judge will have to decide who is responsible for correcting the issue.
Can This Happen To You?
Sadly, YES, it could.  Not every dumpster rental service is created equal and you may find yourself dealing with a less than pleasant situation that turns into a customer service nightmare.  First of all, vet the company you are thinking of using.  Check out their Yelp or Google reviews, check standings with the Better Business Bureau or ask around.  If they are local, chances are someone you know has worked with them or heard about them.  The best way to find out what dealing with them will be like is to call them.  Ask as many questions about the process as you can think of and see how they interact with you.
Does it take them too long to answer your question?  Do they seem annoyed?  Do they give you generic information, blow you off or treat you rudely?  Do they not answer the phone at all or it takes far too long for them to get back to you?  You should go elsewhere.  This is a pretty good indicator of the potential headaches you will encounter renting a dumpster from them.  It may seem silly to do research about a company that is dropping off a dumpster but you will don't want to be left hanging or lose money if a problem occurs that needs immediate attention.
Next, when you do select a dumpster company and are ready to book your rental, be absolutely clear about what you are doing and what you need.  If you aren't sure of the size dumpster you require, explain your project in detail, especially the types of debris.  Don't be afraid to ask questions and get all of the information you need to make the best decision possible.  It's your money so you need to be completely satisfied in what you are getting.
When you are ready to deal with a dumpster rental company that SOLVES problems and doesn't create them, contact your Burr Ridge Dumpster Rental!