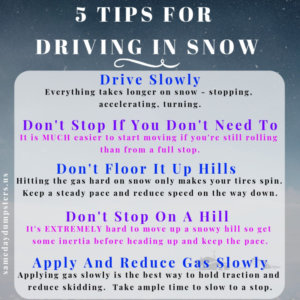 5 Tips For Driving In Snow
Drive Slowly

–  Everything takes longer on snow – stopping, accelerating, turning.  Use caution.
Don't Stop If You Don't Need To

–   It is MUCH easier to start moving if you're still rolling than from a full stop.
Don't Floor It Up Hills

–  Hitting the gas hard on snow only makes your tires spin.  Keep a steady pace and reduce speed on the way down.
Don't Stop On A Hill

–  It's EXTREMELY hard to move up a snowy hill so get some inertia before heading up and keep your pace.
Apply And Reduce Gas Slowly

–  Applying gas slowly is the best way to hold traction and reduce skidding.  Take ample time to slow to a stop.
Remember to give yourself plenty of room from the person in front of you and take your time.  Vigilance and caution will help keep you, and those on the road around you, safe.
If you are looking to clear out more than snow from your life, contact Burr Ridge dumpster rental service to inquire about any and all of your disposal or junk removal needs.