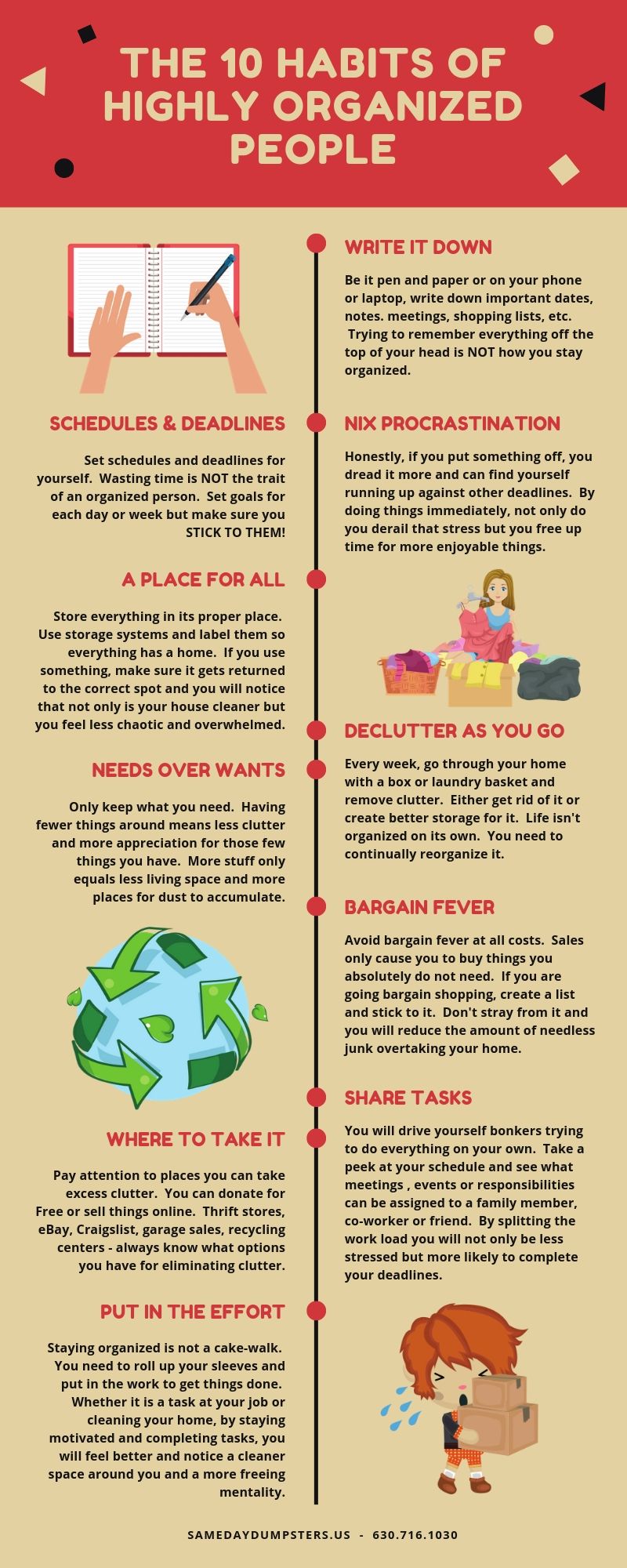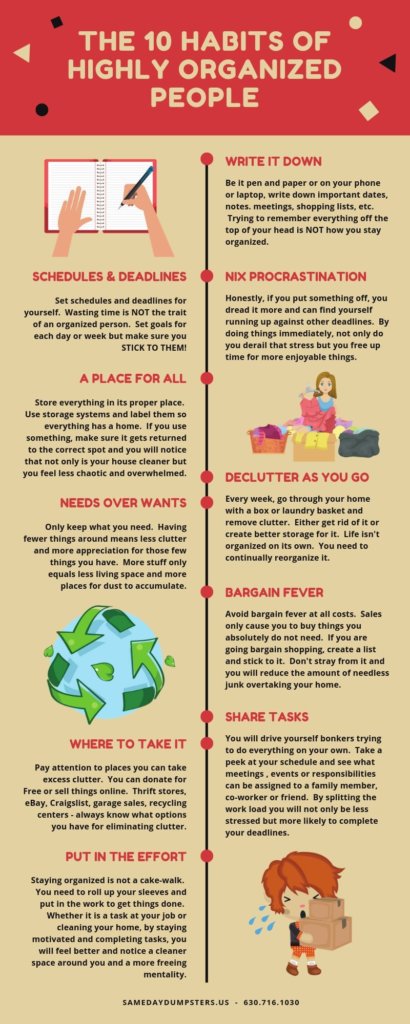 THE 10 HABITS OF HIGHLY ORGANIZED PEOPLE
A Few Simple Changes In Your Routine Can Turn Into Habits That Save You Stress, Anxiety, Time And Money!
Highly organized people get things done.  They complete tasks and projects while keeping the majority of their lives stress-free and efficient.  They save time so they can focus on more enjoyable activities and they can make the most of the time they are here.  If your home is neat and you accomplish the tasks you set, you feel better.  This mentality and the benefits that go along with it aren't something you have to be born with.  You can learn a few simple habits that the most organized and efficient people put into each and every day.
WRITE IT DOWN
Be it pen and paper or on your phone or laptop, write down important dates, notes. meetings, shopping lists, etc. Trying to remember everything off the top of your head is NOT how you stay organized.
SCHEDULES & DEADLINES
Set schedules and deadlines for yourself. Wasting time is NOT the trait of an organized person. Set goals for each day or week but make sure you STICK TO THEM!
NIX PROCRASTINATION
Honestly, if you put something off, you dread it more and can find yourself running up against other deadlines. By doing things immediately, not only do you derail that stress but you free up time for more enjoyable things.
A PLACE FOR ALL
Store everything in its proper place. Use storage systems and label them so everything has a home. If you use something, make sure it gets returned to the correct spot and you will notice that not only is your house cleaner but you feel less chaotic and overwhelmed.
DECLUTTER AS YOU GO
Every week, go through your home with a box or laundry basket and remove clutter. Either get rid of it or create better storage for it. Life isn't organized on its own. You need to continually reorganize it.
NEEDS OVER WANTS
Only keep what you need. Having fewer things around means less clutter and more appreciation for those few things you have. More stuff only equals less living space and more places for dust to accumulate.
BARGAIN FEVER
Avoid bargain fever at all costs. Sales only cause you to buy things you absolutely do not need. If you are going bargain shopping, create a list and stick to it. Don't stray from it and you will reduce the amount of needless junk overtaking your home.
SHARE TASKS
You will drive yourself bonkers trying to do everything on your own. Take a peek at your schedule and see what meetings , events or responsibilities can be assigned to a family member, co-worker or friend. By splitting the work load you will not only be less stressed but more likely to complete your deadlines.
WHERE TO TAKE IT
Pay attention to places you can take excess clutter. You can donate for Free or sell things online. Thrift stores, eBay, Craigslist, garage sales, recycling centers – always know what options you have for eliminating clutter.
PUT IN THE EFFORT
Staying organized is not a cake-walk. You need to roll up your sleeves and put in the work to get things done. Whether it is a task at your job or cleaning your home, by staying motivated and completing tasks, you will feel better and notice a cleaner space around you and a more freeing mentality.
When You're Ready To Clear Out That Clutter, Consider Renting A Reliable Blue Dumpster.  We Have 8 Convenient Locations.
Dumpsters in Elk Grove Village
Bolingbrook Same Day Dumpster Rentals
Dumpsters for Rent in Hickory Hills