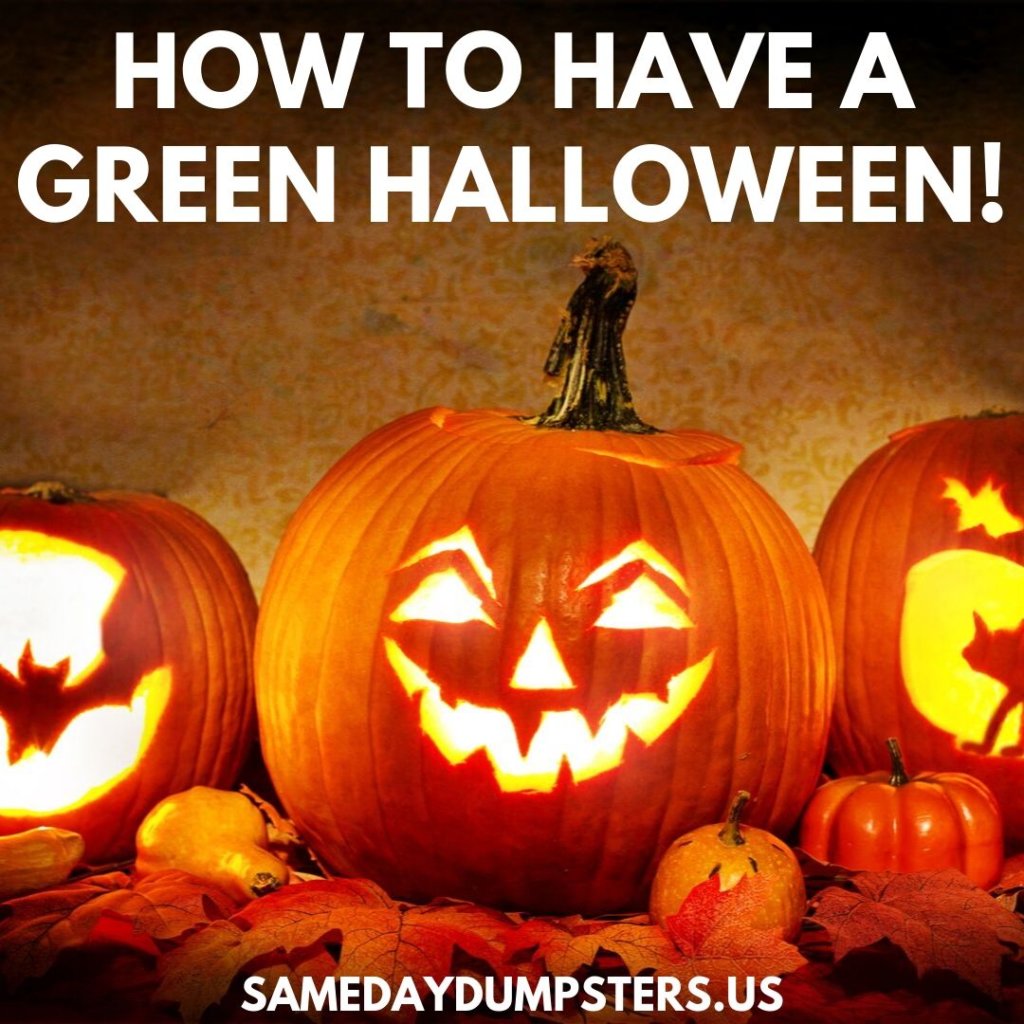 It's that time of year when the leaves begin to change, the air grows crisp and everyone is ready to celebrate All Hallow's Eve.  While it is fun to go trick or treating to collect candy and decorate our homes in all manner of spooky, the mounds of trash left over on November 1st aren't so sweet.  From disposable decor, candy wrappers and costume bags, we do Mother Nature no favors during our festivities.  Fortunately, there are a few things you can do to reduce Halloween trash and still be in the spirit of the holiday.
COSTUMES
In the United States alone we spend almost $3.4 Billion on Halloween costumes.  Most of these costumes come in non-biodegradable plastic.  Instead of buying brand new, try a costume swap.  Get a group together and have them all trade costumes from years prior so they can have a new look.  You can even hit up thrift stores or raid your own closets for fun accessories that you can use to make a creative outfit.  For instance, you can tape smarties candy to your pants and be a "Smarty Pants" or you can get old prom clothes, splash a little corn syrup blood on yourself and be a ghost from generations past.
The point is that you can get creative and stand out from the sea of similar costumes by being funny or spooky without draining your pockets or clogging up landfills with garment and accessory bags.
TRICK-OR-TREATING
Reduce emissions by walking, biking or carpooling to favorite trick or treating spots.  Avoid purchasing plastic trick or treat bags.  You can use backpacks, totes, paper bags or even pillowcases for an inexpensive and eco-friendly way to haul your treasures.  If you like the idea of a Halloween themed candy bag, there are so many cloth totes available for purchase or talented folks who craft them and sell on Etsy, Craigslist, Amazon, etc.  Be sure to bring an extra bag to pick up trash, candy wrappers, etc. so they aren't being littered onto the street.
When it comes to handing out candy, consider Hershey Kisses (they are wrapped in recyclable aluminum), cans of soda, paperless crayons or even mint tins that can be reused or recycled.
PARTIES
One of the most fun traditions of Halloween are the costume parties!  Adults and children alike enjoy a celebration of spooky traditions and games.  If possible, use online invitations instead of paper ones.  Consider starting a Facebook group or sending out emails.  Use plates and cups that can be recycled and make sure that you have a bin for waste and a bin for recyclables highly visible and properly marked.  For the food itself, consider finger foods or using aluminum foil and pans that you can easily recycle.  With smaller dinner parties, you can use cloth napkins and your real dishes that can be tossed into the dishwasher.
Decorations are a must for any Halloween soiree.  Ask friends and family to borrow decor for the evening or purchase decorations that you can store and use year after year.  Avoid buying disposable decorations that will end up in the trash.
PUMPKINS
One of the most important staples of the Halloween season is the pumpkin.  Whether you carve 'em, cook 'em or just leave 'em out for a harvest look, these festive friends adorn many homes during Halloween.  Sadly, pumpkins don't last very long and need to be disposed of when they start to rot. Here's how to responsibly dispose of those pumpkins:
Eat 'Em – Don't toss out those seeds!  You can roast them for a quick snack or even use them to grow your own pumpkins for next year.  The flesh of your pumpkin can be pureed and used for pies, sauces, soups and other tasty treats.
Compost 'Em – For folks without a compost bin, simply put them in a sunny spot of your yard, slice them up and cover them with leaves.   You can also reach out to your village and inquire about pumpkin recycling programs or facilities.
Neighborhood Compost – You can let your neighborhood know that you'll take their rotting pumpkins.  It saves money and builds great compost to replenish the yard or garden.  Smashing pumpkins actually helps them decompose faster so you can create an event around it.  Have families come smash their pumpkins with shovels, sticks or by stomping on them while you serve apple cider, baked treats, play music or even have a bonfire with s'mores.
Something else to keep in mind while you limit the trash output on Halloween is that you can send all of those candy wrappers to Terracycle instead of tossing them.  Terracycle turns them into new items like purses or pencil cases.  No matter how you celebrate the holiday, changing just one or two things can significantly reduce the trash that makes it to our landfills.  You can have a great Halloween while still being environmentally friendly!  Happy Halloween!
To find out how our new storage container can help you,  give us a call at 630.716.1030 or click here >>> Same Day Storage Solutions!