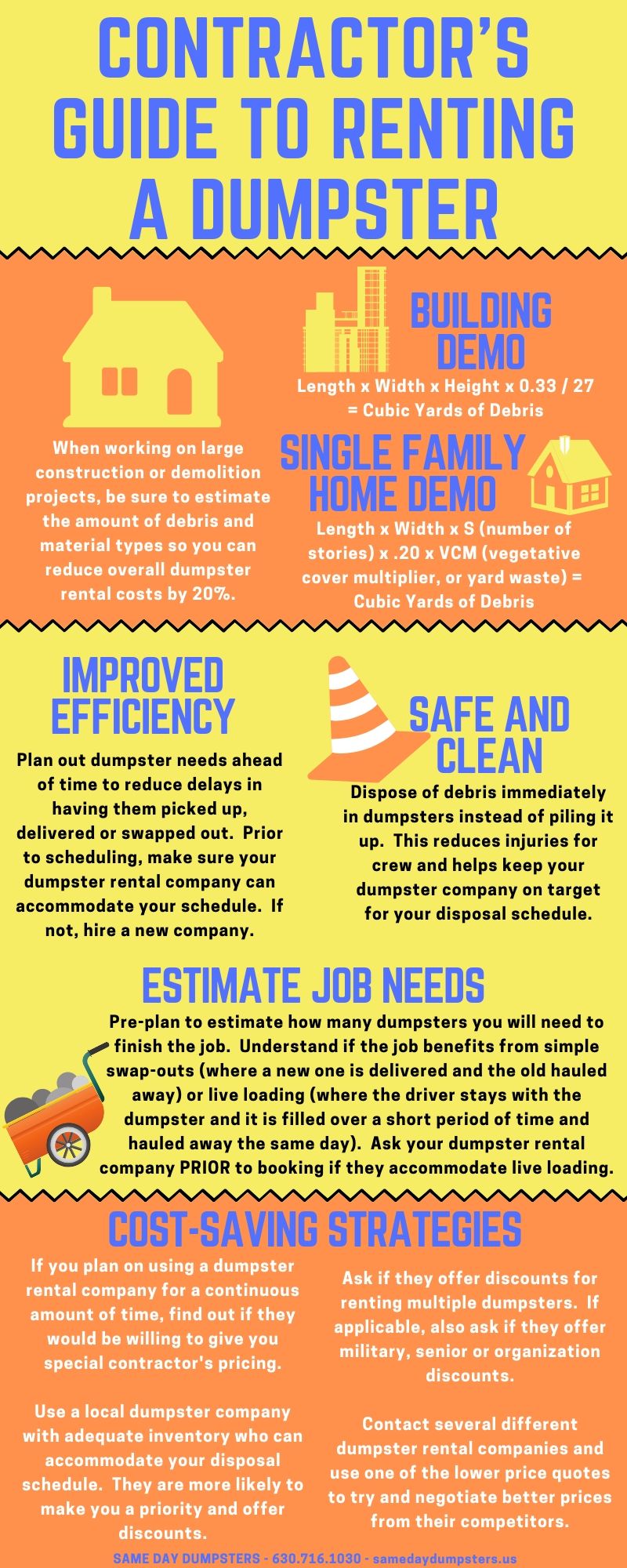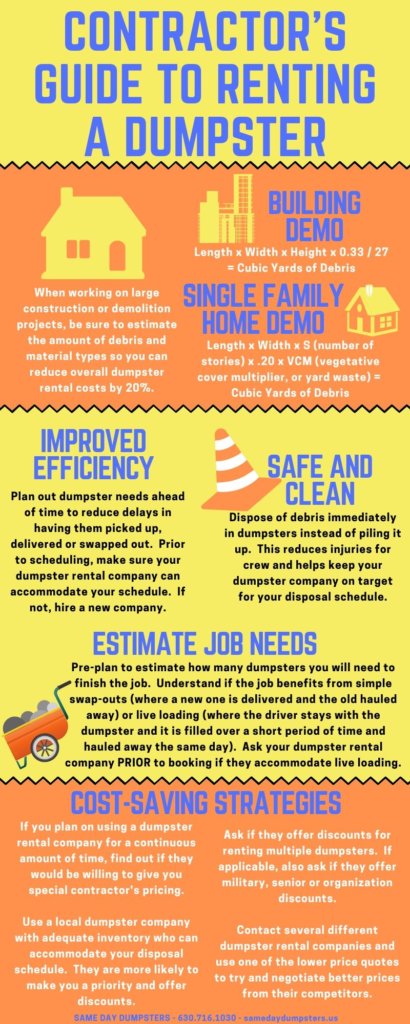 CONTRACTOR'S GUIDE TO RENTING A DUMPSTER
These Few Simple Steps Can Save You Big Money On Your Next Project!
Whether you are working on a single family home, multi-family building or commercial project, these fast facts can help you save around 20% of your overall cost.  The most important factor in achieving such savings is to meticulously pre-plan your demo and overall project before you ever call a dumpster rental company to book.  Knowing how much debris you will have, material types, project schedule, capabilities of the dumpster rental company and what will benefit your project as a whole while also keeping it safe and free of delays is absolutely essential in not only saving money but ensuring a successful run.
Once you have accurately assessed the information you need to proceed, all you need to do is find the right dumpster rental company for your project needs and schedule.  This comes down to simply calling around and figuring out who is offering you the best price, can fulfill your schedule requirements and has the capability and inventory to manage this type of haul job.  You never know unless you ask.
Take a look at these quick tips for how to accurately gauge your project needs in regards to renting a dumpster…
Estimating Debris –
When working on large construction or demolition projects, be sure to estimate the amount of debris and material types so you can reduce overall dumpster rental costs by 20%.
Building Demo – Length x Width x Height x 0.33 / 27 = Cubic Yards of Debris
Single Family Home Demo – Length x Width x S (number of stories) x .20 x VCM (vegetative cover multiplier, or yard waste) = Cubic Yards of Debris
Improved Efficiency –
Plan out dumpster needs ahead of time to reduce delays in having them picked up, delivered or swapped out. Prior to scheduling, make sure your dumpster rental company can accommodate your schedule. If not, hire a new company.
Safe And Clean – 
Dispose of debris immediately in dumpsters instead of piling it up. This reduces injuries for crew and helps keep your dumpster company on target for your disposal schedule.
Estimate Job Needs –
Pre-plan to estimate how many dumpsters you will need to finish the job. Understand if the job benefits from simple swap-outs (where a new one is delivered and the old hauled away) or live loading (where the driver stays with the dumpster and it is filled over a short period of time and hauled away the same day). Ask your dumpster rental company PRIOR to booking if they accommodate live loading.
Cost-Saving Strategies –
If you plan on using a dumpster rental company for a continuous amount of time, find out if they would be willing to give you special contractor's pricing.
Use a local dumpster company with adequate inventory who can accommodate your disposal schedule. They are more likely to make you a priority and offer discounts.
Ask if they offer discounts for renting multiple dumpsters. If applicable, also ask if they offer military, senior or organization discounts.
Contact several different dumpster rental companies and use one of the lower price quotes to try and negotiate better prices from their competitors.
To figure out what size dumpster you may need, check out this size breakdown!
When You're Ready To Take On That Monster Project, Consider Renting A Reliable Blue Dumpster.  We Have 8 Convenient Locations.
Dumpsters in Elk Grove Village
Bolingbrook Same Day Dumpster Rentals
Dumpsters for Rent in Hickory Hills