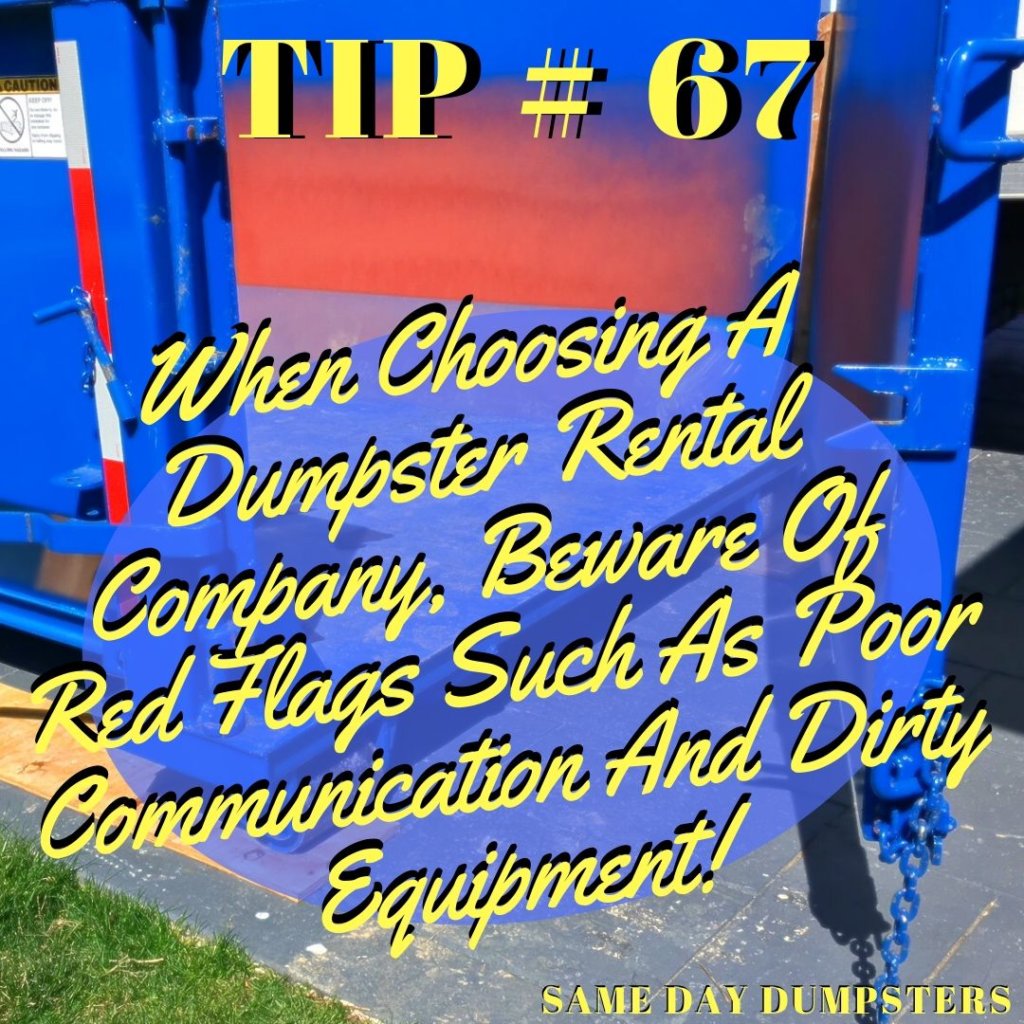 When Choosing A Dumpster Rental Company, Beware Of Red Flags Such As Poor Communication And Dirty Equipment!
There are great dumpster rental companies available in the United States waiting to help you complete your projects.  However, as in anything, there are also a whole heap of shysters who could care less about anything other than making a quick buck.  Even at the expense of your project or sanity.
Here are a few ways you can determine if you likely shouldn't be dealing with a particular rental company:
Poor Communication – Not able to reach them?  Always getting a voicemail or the phone continuously rings no matter what time of day you call?  This is a great indicator of one of two things.  It can show a potential attitude where the customer isn't as important as anything else going on or it can demonstrate a company that is overwhelmed with little support staff.  Either way, this can be troublesome for your project if you need quick answers to a sudden obstacle or have a situation that needs special attention.
Little Information Required – No, booking a dumpster isn't like brain surgery but there is still a bit of information necessary to complete the appointment.  If the person you are speaking to seems rushed, is currently operating the machinery themselves or barely has any info from you, this can be problematic.  First of all, how can you be sure the dumpster will get where you need it to if they didn't seem to be paying attention?  Also, the dumpster rental company needs to fill you in on some details BEFORE you book a dumpster.  Namely, what you can put into it, what rules you should follow so you don't get charged extra fees, etc.
Shady Pricing – Speaking of extra fees, the dumpster rental company needs to tell you what you can be charged if your load weighs too much, if it overflows, etc.  You also need to know what you can or can't put into that dumpster so the driver doesn't refuse to take your load and you are stuck with another rental fee until you sort it out.  Knowing what limits you have and what rules you need to follow is important.  If the company doesn't review this with you BEFORE you receive their dumpster, don't be surprised if they tack on a ton of fees to your final price.  Also, your dumpster service should be able to tell you what your total price is before you rent.  If they say they can't determine that until the very end, expect there to be price gouging or hidden fees.  Find a company that offers a "flat rate" or "final cost" but be aware that if you break any rules, you can be held liable.
Dirty Equipment – This speaks to professionalism.  If you get a dumpster that still has scraps of debris inside, this can cost you.  Depending how much it is, that debris might throw your load weight off and cost you an extra fee.  Mainly, this shows that the company does things hap-hazardly and isn't concerned about you or your rental.  A professional dumpster service will give you a clean, safe container for your project.