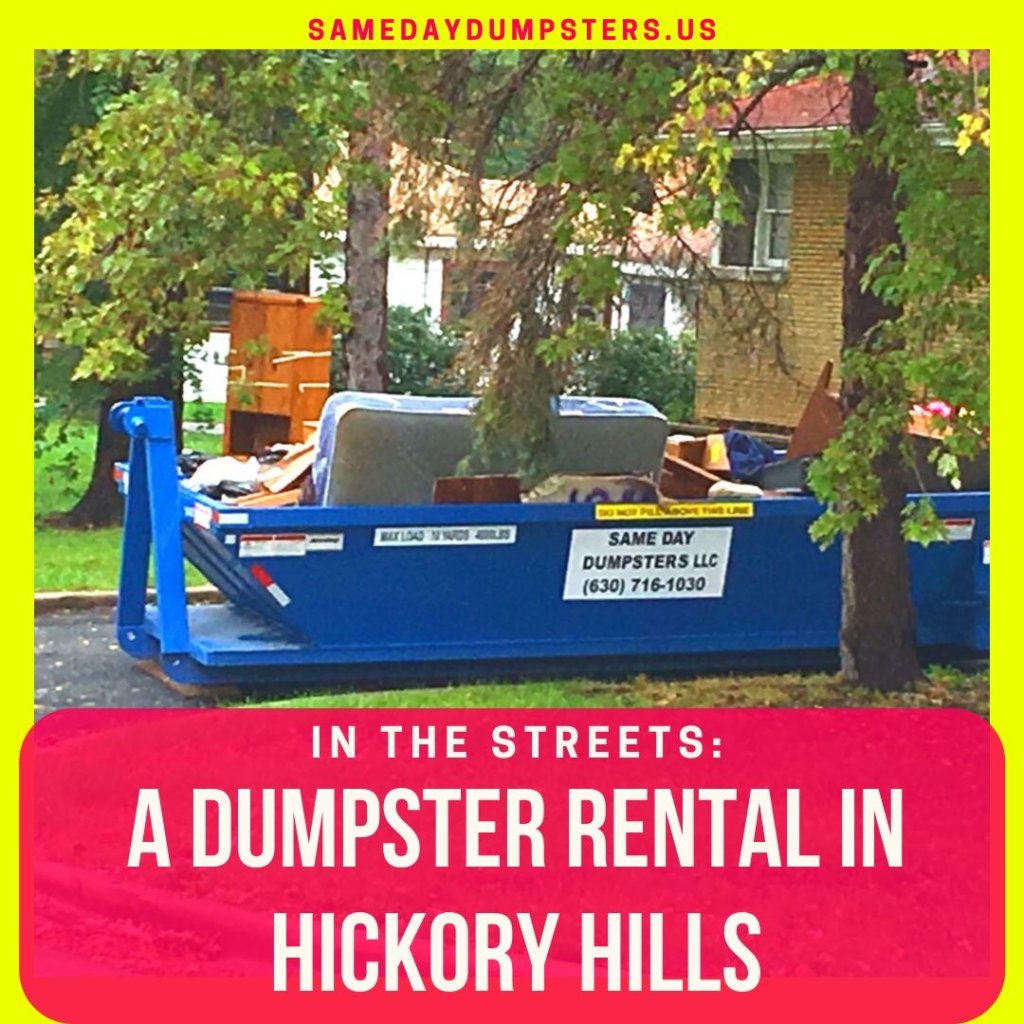 In The Streets: A Dumpster Rental in Hickory Hills
Our "In The Streets" segment highlights this picture from Cameron Taylor of Hickory Hills.  Cameron was helping his grandparents clear out items from their basement that had been damaged by flood waters in the last series of storms to hit the area.  Knowing that the job required a bit more than he could handle in his pick up truck, he decided that a 10 yard dumpster rental would be perfect to get the job done right!
According to Mr. Taylor, his grandparents used the basement mainly for storage.  When their sump pump failed during the last round of rainstorms, the basement took on water.  Unfortunately, this water ended up damaging a number of items such as dressers, cabinets, a mattress, files and drywall.  Wanting to make a clean start and thwart any mold growth, Cameron's grandparents charged him with getting rid of the afflicted items.  Mr. Taylor estimated that it would be much easier and take far less time to rent a dumpster, fill it and have it hauled away.
Mr. Taylor conducted an online search for local dumpster rental companies.  After comparing pricing and reading reviews, he decided that Same Day Dumpsters was a perfect fit for his project.  The staff answered all of his questions and had a 10 yard dumpster to him within the hour!  After placing protection for the driveway and finding the best place to park the dumpster, the driver triple-checked if Cameron had any questions or needed any additional help.  Once he was set, Mr. Taylor and a cousin set forth to clean out all damaged property.
We want to thank Cameron for sharing his story with us and are pleased we were able to help!  Our dumpsters end up accomplishing so many different tasks all over the Chicagoland area and we are always excited to hear what they've been up to.  Don't forget to give our drivers a wave when you see one of our trusty blue dumpsters on its way to a new adventure!
We LOVE to hear what projects you are using a Same Day Dumpster for so send us a photo!
Would you like to submit a photo for your chance to be featured in our "In The Streets" series?  Please leave a comment below or use our contact form to reach us and let us know!
If you are ready to tackle your next big project and need a dumpster rental in Hickory Hills, find out how we can be of service to you!