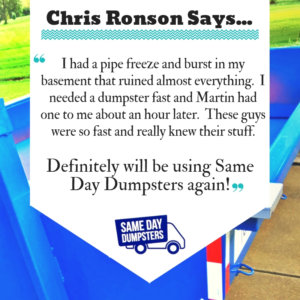 "I had a pipe freeze and burst in my basement that ruined almost everything.  I needed a dumpster fast and Martin had one to me about an hour later.  These guys were so fast and really knew their stuff.  Definitely will be using Same Day Dumpsters again."
It seems like this is the season for issues with flooding.  Between the snow melting and torrential rains coming in the next few months, older homes seem to struggle to keep up with the demand.  If you find yourself in a tough spot, Same Day Dumpsters in Burr Ridge can have a bin to you before you know it.
Having just opened up a sixth location in Bolingbrook allows us to service the Chicagoland area quickly for any of your dumpster needs.  It's the feedback from our customers that helps us offer better services and strive to provide more in-depth solutions.  We listen to every comment and hold the opinions of our clients in the highest regard.  Your voice has value and we appreciate the trust placed in us to provide amazing service day in and day out.
Don't hesitate to let us know how we can improve upon our formula or any new services you might like to see us offer in the future.  Don't be shy, we would LOVE to hear from you!