How To Get Rid Of That Old Mattress
While it may serve you well for many years, there comes the day when your mattress is no longer useful.  Getting a new mattress can be exciting and much needed for your poor back but what happens to old reliable?  You may have seen mattresses left on curbs, in alleyways, in the middle of a field or even at the bottom of a lake – don't ask – but those are actually the worst things you can do to get rid of it.
Mattresses pose a problem because they aren't eco-friendly and can cause harm to the environment.  Taking it to a landfill will usually result in extra fees because they are bulky, hard to compact and can cause flammable, toxic air pockets to form on dump sites.  While a typical mattress is comprised of wood, steel, cotton and polyurethane foam, usually only the foam is recyclable.
So, how DO you dispose of an old mattress properly?
Out With The Old, In With The New
When you purchase a new mattress, many stores will offer mattress pick up and disposal as part of your purchase price.  If it isn't, ask the retailer because they might still do it for a small fee.  You can also ask the retailer if they can return your old mattress to the manufacturer or give you the information to contact them yourself.  Nowadays, manufacturer's are taking on the responsibility of recycling old mattresses.  Considering there are around 50,000 mattresses being disposed of each day, that is a reassuring thought!
Spread the Love
If your mattress is gently used, consider giving it away.  You can offer it friends and family or even donate it to a charity.  As long as the mattress isn't infested with bed bugs or in terrible shape, charities will give it to families in need and it can go on being useful for a while longer.  Some charities that will accept mattress donations are: Goodwill, Habitat for Humanity, Salvation Army Furniture Banks, domestic violence shelters and your local homeless shelters.  Salvation Army will even come to your home and pick up the mattress free of charge.  You can even check with local churches and see if they have any families that need such items or have any programs for donation.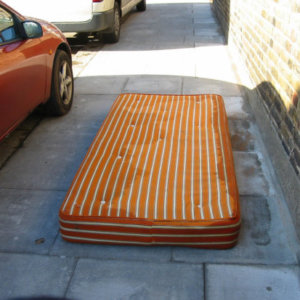 List It
Sometimes you just can't seem to find anyone who wants the mattress.  In this case, consider listing it for free online.  The Craigslist "FREE" section is a great place to move items quickly, especially if you are near a highly populated area.  Don't be discouraged if you get a few people who say they will come for it and don't.  You should get enough inquiries to quickly balance out those duds and find a new home for your old friend.  There are even Facebook Groups devoted to Garage Sale Items or Free Items, garage sale sites like Bookoo and apps like OfferUp and LetGo.  You may even have luck with your community paper or by posting a flyer on your town hall/recreation center community board.
If your mattress is fairly new or in excellent shape, you may want to consider selling it for a few bucks on the same sites, groups and apps.
Recycle Or Repurpose
There are some recycling companies that can reuse different parts of a mattress and turn them into new products.  For instance, the foam of a mattress can be shred into smaller pieces and used to make new pillows.  You can search for mattress recycling companies near you or check out this Plush Beds guide for companies in each state.  Another great option is the site Freecycle, which is like a Craigslist for recycling items.  Also, check with your township or municipality to see if they offer any recycling programs for mattresses or if they have information for a local recycler.  If you have a program in your city, they will come pick up that used mattress from your curb.
An interesting trend happening lately is that people are breaking down mattresses on their own and recycling or reusing the parts.  There are entire groups and pages dedicated to finding uses for old mattress parts on Facebook and Pinterest.  Even sites like Shareably offer suggestions on how to be creative with all that wood, steel, cotton, box springs and foam in your old mattress.
If you have the right tools and a little time, simply cut the perimeter of the cloth covering and peel both the cloth and foam away from the box springs and wooden frame.  You can reuse them into any creative way you see fit or just roll the materials into a compact bundle and put in your home recycling bin.  Box springs can be recycled or sold for scrap and that wood frame can be burned or cut up into wood chips.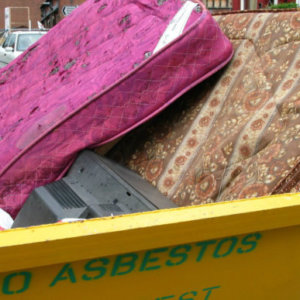 Trash Talk
Sometimes you run out of time and just want that old mattress gone immediately.  Call your local waste management company and ask if they will take mattresses.  They may pick it up for a small fee.  If they simply can't take the mattress then a junk removal service or dumpster rental company will have no problem disposing of your mattress or other bulky items.  If you tell the company during scheduling that you want the item recycled, they do their best to find the right facility to accommodate your request.  Check the pricing on what it would take to dispose of your mattress because they might be more than it's worth spending for disposal.  These options are usually a last resort after you have exhausted all the other suggestions above.
So Long, Good Buddy
That mattress might have seen you through different phases of your life or stuck by your side through several moves but it eventually retires.  Instead of sending your poor mattress to a dark alley or chucking it into the ocean, consider all of the eco-friendly and responsible ways to properly dispose of it.  A mattress being tossed carelessly aside or stuck in a landfill to rot into a toxic bubble can cause a great deal of harm to the environment and everyone's health.  While it may take a few minutes to place a phone call or locate a program that will properly recycle or reuse that old mattress, it's well worth it to keep our living space clean.