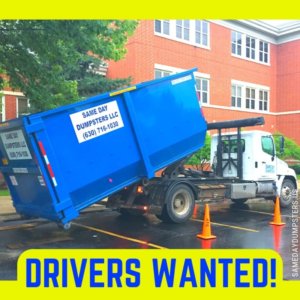 Drivers Needed!
Do you like being outdoors?  Exploring new neighborhoods?  Do you dislike being stuck behind a desk?  Do you have a CDL or can easily obtain one?  Then we are definitely looking for YOU!
Same Day Dumpsters has expanded to 8 convenient locations around the Chicagoland area and we need Drivers to join our team!  Our trusty blue dumpsters can be spotted all over helping families clean up after floods, building renovations, new development, community events, recycling events, landscaping projects and so much more but they can't get there by themselves.  We need dedicated Drivers to help distribute our dumpster rentals all over the Chicago suburbs!
We Offer:
Competitive Pay
Unlimited Growth Potential
Fantastic, Industry-Experienced Teammates
New Locations Every Day
Not Stuck Behind A Desk
Driver Responsibilities:
Picking Up Dumpsters
Delivering Dumpsters
Securing Dumpsters
Troubleshooting On-Site Placement Issues
Strong Work Ethic
The pay starts at $25 per hour but can be more based on experience.  There is no out-of-state, over-the-road trucking here – you will be home every night with your family.  We provide the trucks and dumpsters, all you need is a CDL.  It's that simple!
If you are ready to join one of the fastest growing companies in the Chicagoland area and enjoy new and interesting challenges each day, contact Martin at 630.716.1030 for more details.