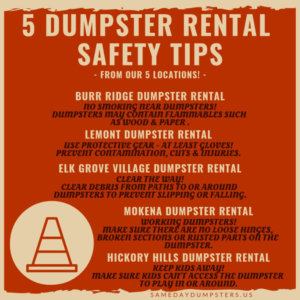 5 Dumpster Rental Safety Tips
From Our 5 Locations!
Burr Ridge Dumpster Rental –  No Smoking Near Dumpsters!  Dumpsters may contain flammables such as wood and paper.
Lemont Dumpster Rental –   Use Protective Gear – At Least Gloves!  Prevent contamination, cuts and injuries.
Elk Grove Village Dumpster Rental –  Clear The Way!  Clear debris from paths to or around dumpsters to prevent slipping or falling.
Mokena Dumpster Rental –  Working Dumpsters!  Make sure there are no loose hinges, broken sections or rusted parts on the dumpster.
Hickory Hills Dumpster Rental–  Keep Kids Away!  Make sure kids can't access the dumpster to play in or around.
By following these tips from our Same Day Dumpster Rental location crews, you can ensure a safe and successful rental.  Be sure to inquire about any weight limits or what can NOT be placed into a dumpster with one of our offices or on this site.