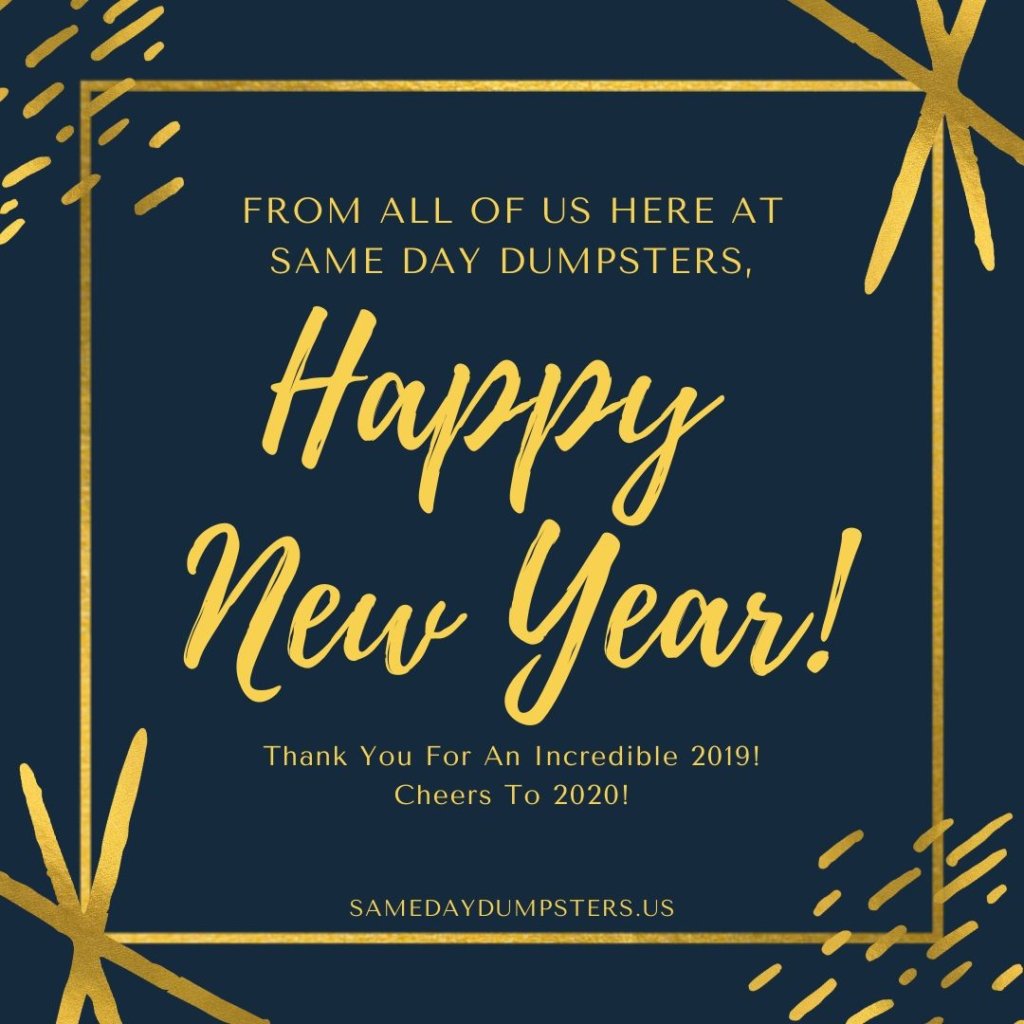 May The New Year Bring You Dizzying Levels Of Success And Joy!
The sun has set on a whole year but it is about to rise on a brand new one.  Same Day Dumpsters is excited to explore the new opportunities that 2020 has planned for us, including a major service area expansion.  While embracing the new is always an adventure, we will still be delivering the same quality products at reasonable rates that our clients have come to expect.  With same day delivery, amazing support staff ready to tackle any obstacle and a wide variety of dumpster options to choose from, helping your project finish successfully is our priority.  Contact us today to see what one of our trusty blue dumpsters can do for you!
Take A Look At The Top 5 Articles Of 2019…
While this time of year is perfect for "out with the old, in with the new" mentality, it might just be time to say sayonara to that old refrigerator.  Check out our handy guide on How To Dispose Of An Old Fridge to make a more responsible decision on how to officially cleanse it from your life.
There are quite a few choices on who to rent a dumpster from.  While it may seem overwhelming to try and sort out the good from the bad, there are several very important questions you should be asking to determine How To Choose The Right Dumpster Rental Company.  Using this infographic in 2020 might just save you from a truly rotten experience.
Speaking of finding the right company, you should also know what you are being charged for.  Dumpster rental fees can be confusing, especially if you break a rule that your rental company never explained in the first place.  Stay in the know with our guide on The Extra Fees A Dumpster Rental Service Might Charge.
Not sure if a dumpster or a Bagster will work best for your project?  Settle the debate once and for all by watching our quick video on Dumpsters VS. Bagsters so you can finally decide what works better for you and your project.
One of the most under used spaces you own is your garage.  There are quite a few tips you can use to Make Your Garage Eco-Friendly, which not only saves you money and conserves energy but can turn that space into an active, more resourceful hub for you and your family.
Wishing You A Very Happy New Years!  May It Be All That You Hope!
To find out how our dumpster rentals can help you, give us a call at 630.716.1030 or click here >>> Same Day Dumpsters!