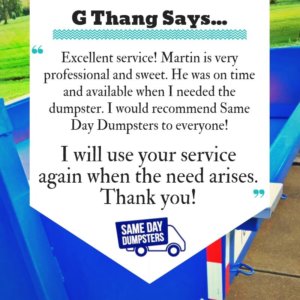 "Excellent service! Martin is very professional and sweet. He was on time and available when I needed the dumpster. I would recommend Same Day Dumpsters to everyone! I will use your service again when the need arises. Thank you!" – G Thang
When The Need Arises…
Isn't that the point?  You don't know when you might need a dumpster.  You can't foresee a flash flood coming through and ruining everything in your basement.  You can't predict when a storm will ravage the area, knocking trees and creating a mess in your yard.  You can't prepare for a sudden passing of a loved one and the fact that you now have an entire house to clean out.  You can't assume that your adult child might need to move back home for awhile and you need to completely clean out that guest bedroom.
That is the point.  You can't predict life and what may or may not happen.  A circumstance can sprout up fast that leaves you in a situation where you need to rent a dumpster.  In those moments, you want to worry about solving the problem or relieving the stress not if your local dumpster rental company is going to be on time or show up at all.
Same Day Dumpsters puts YOU first.  No matter the situation that pops up, you can count on us to deliver a dumpster quickly, efficiently and without hassle.  We pride ourselves on providing solutions, not creating more problems.
You talk directly to us and we address your unique situation as quickly as possible.  No hassles.  No headaches.  Just that same great on-time, reliable service Chicagoland has come to depend on.
We couldn't be happier to serve folks like G Thang and yourself and take pride in delivering Same Day Dumpsters throughout Chicagoland.  If you see our trusty blue dumpster, be sure to say hello!
SAME DAY DUMPSTERS – 630.716.1030
Call For Information Or To Book An Appointment