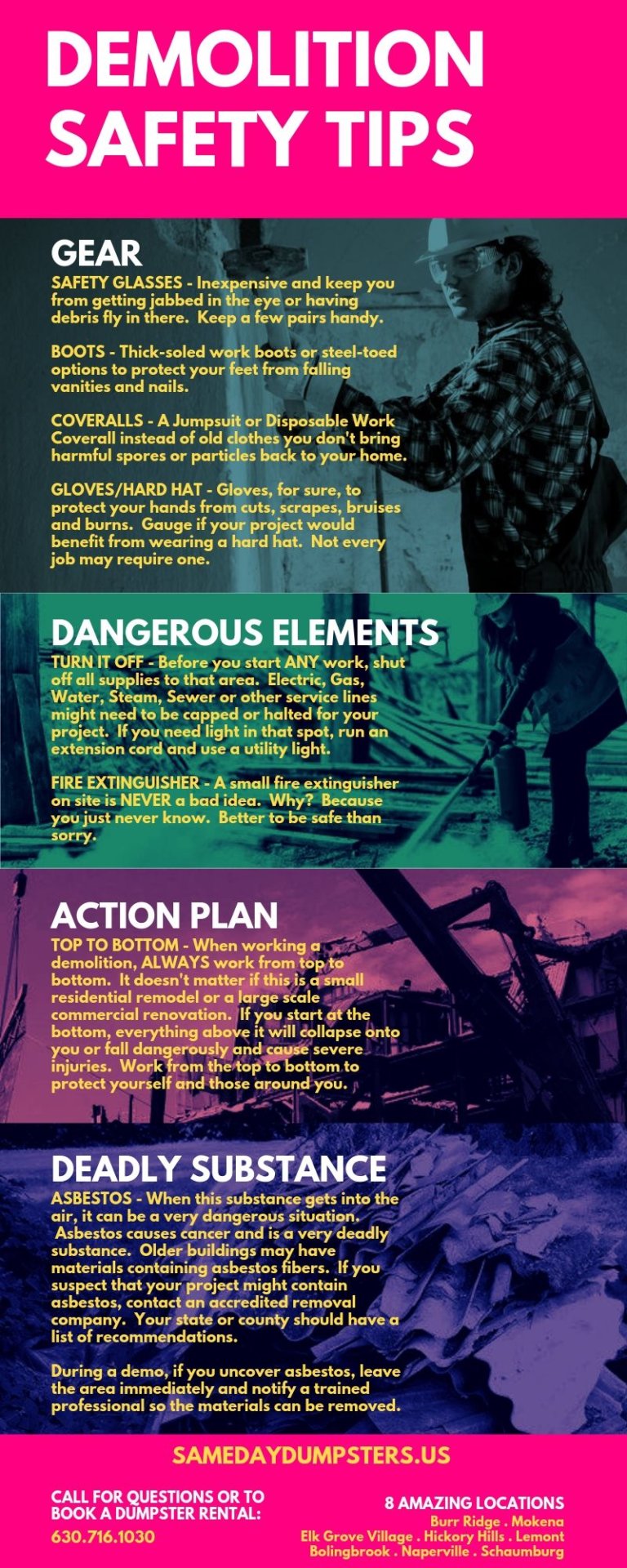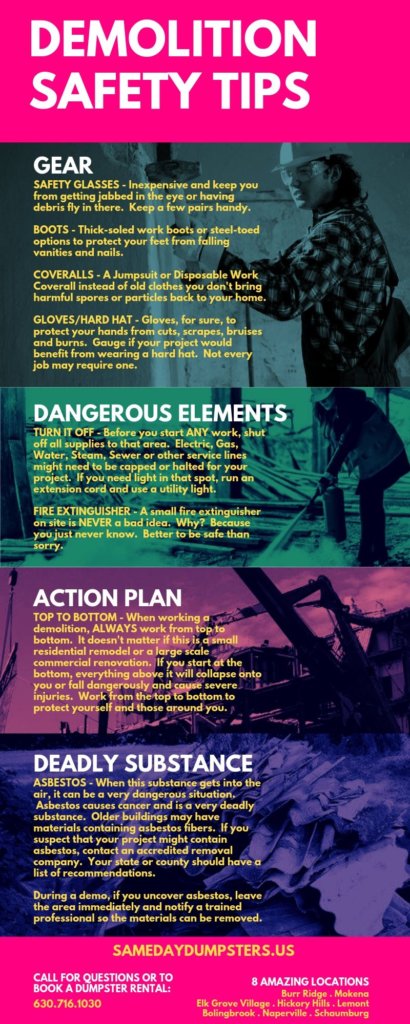 DEMOLITION SAFETY TIPS
GEAR
SAFETY GLASSES – Inexpensive and keep you from getting jabbed in the eye or having debris fly in there. Keep a few pairs handy.
BOOTS – Thick-soled work boots or steel-toed options to protect your feet from falling vanities and nails.
COVERALLS – A Jumpsuit or Disposable Work Coverall instead of old clothes you don't bring harmful spores or particles back to your home.
GLOVES/HARD HAT – Gloves, for sure, to protect your hands from cuts, scrapes, bruises and burns. Gauge if your project would benefit from wearing a hard hat. Not every job may require one.
DANGEROUS ELEMENTS
TURN IT OFF – Before you start ANY work, shut off all supplies to that area. Electric, Gas, Water, Steam, Sewer or other service lines might need to be capped or halted for your project. If you need light in that spot, run an extension cord and use a utility light.
FIRE EXTINGUISHER – A small fire extinguisher on site is NEVER a bad idea. Why? Because you just never know. Better to be safe than sorry.
ACTION PLAN
TOP TO BOTTOM – When working a demolition, ALWAYS work from top to bottom. It doesn't matter if this is a small residential remodel or a large scale commercial renovation. If you start at the bottom, everything above it will collapse onto you or fall dangerously and cause severe injuries. Work from the top to bottom to protect yourself and those around you.
DEADLY SUBSTANCE
ASBESTOS – When this substance gets into the air, it can be a very dangerous situation.Asbestos causes cancer and is a very deadly substance.Older buildings may have materials containing asbestos fibers.If you suspect that your project might contain asbestos, contact an accredited removal company.Your state or county should have a list of recommendations.
During a demo, if you uncover asbestos, leave the area immediately and notify a trained professional so the materials can be removed.
When You're Ready To Take On That Monster Project, Consider Renting A Reliable Blue Dumpster.  We Have 8 Convenient Locations.
Dumpsters in Elk Grove Village
Bolingbrook Same Day Dumpster Rentals
Dumpsters for Rent in Hickory Hills