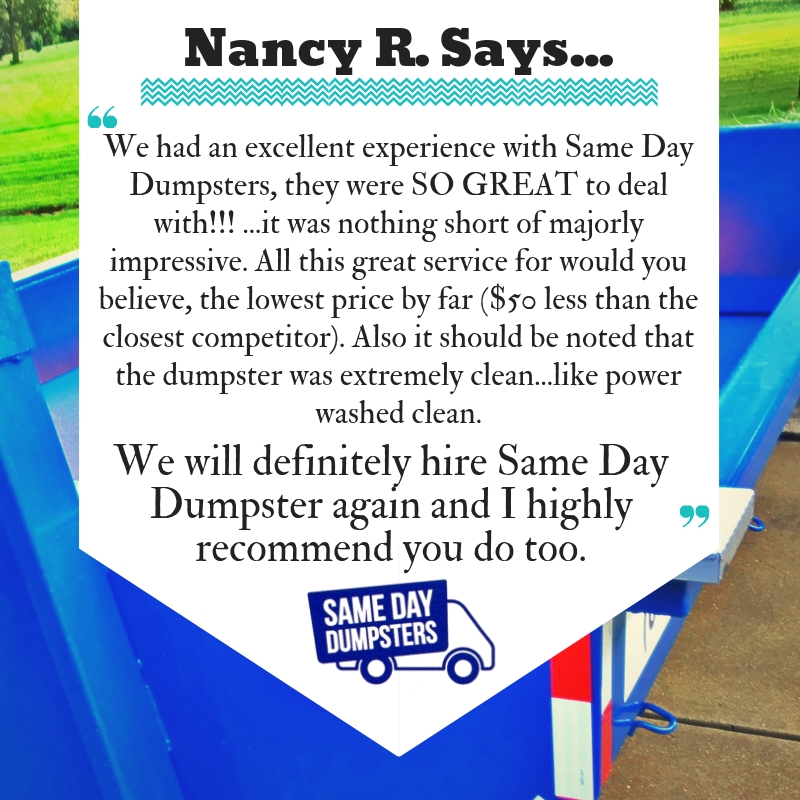 "We had an excellent experience with Same Day Dumpsters, they were SO

GREAT

to deal with!!! Their response time was lightening fast and they totally accommodated our time needs, despite us needing the dumpster within 48 hours. The driver showed up

EXACTLY

when he said he would (6am in the morning!) and communicated with us clearly about the pick up time. The driver, Martin was not only super friendly, his driving skills were amazing. We live on a busy road and a water main, right in front of our house, burst the night before the dumpster was scheduled to be picked up…seriously I could not make this stuff up. So because of a possible sink hole situation, part of our driveway was sectioned off with barricades by the county. Despite this obstacle, Martin masterfully executed the dumpster retrieval with absolutely no contact to the barricades or our yard…it was nothing short of majorly impressive. All this great service for would you believe, the lowest price by far ($50 less than the closest competitor). Also it should be noted that the dumpster was extremely clean…like power washed clean. We will definitely hire Same Day Dumpster again and I highly recommend you do too." – Nancy R.
A Possible SINK HOLE!  Can you believe it?!!!?
It doesn't matter whether it's rain, snow, sleet, hail or even sink holes, if Same Day Dumpsters can get through, we will.  Our customers depend on us through all sorts of rough situations and we make sure we have them covered.
Each situation is unique and every project is important.  We believe that folks in the Chicagoland area deserve a company they can rely on through thick and thin.  It isn't just a bathroom remodel, it's a new quality of life and level of comfort in your home.  It isn't just a burst pipe, it's saving memories and keeping your loved ones safe.  While your project needs may be different from everyone else's, the level of service you receive is always the same…  top-notch.
With customer service you can count on, an amazing variety of products available to you, competitive and highly affordable pricing and 8 locations throughout Chicagoland for faster delivery and pick up, you can put aside the stress and focus on completing your project.
A huge thanks to Nancy for all of the great feedback on how we did with her project.  We are so grateful you chose us to help you during that time and we are glad we could exceed your expectations.  We look forward to working with Nancy, and more Chicagoland folks just like you, in future endeavors.  We are also very pleased to hear that the situation didn't develop into a confirmed sink hole.  That would be the absolute pits!