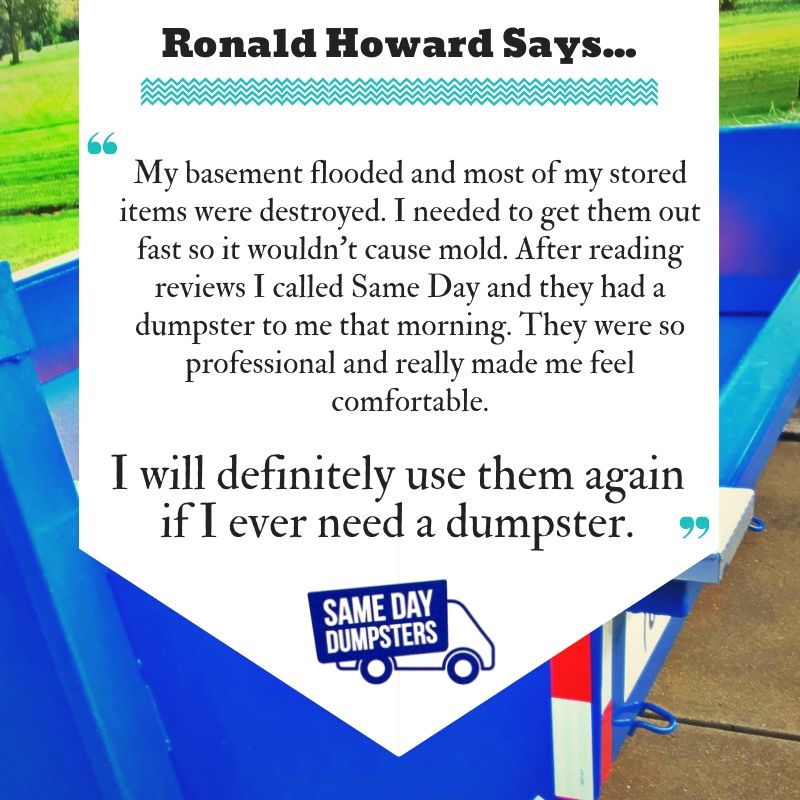 "My basement flooded and most of my stored items were destroyed.  I needed to get them out fast so it wouldn't cause mold.  After reading reviews I called Same Day and they had a dumpster to me that morning.  They were so professional and really made me feel comfortable.  I will definitely use them again if I ever need a dumpster." – Ronald Howard
How Can We Serve You Better?
Our customers are the backbone of our business.  We believe in dedicating our lives to providing amazing service to all we encounter.  Hearing feedback from the community is crucial because it helps us evolve our customer service standards and go the extra mile to ensure complete satisfaction for everyone.  The entire staff at Same Day Dumpsters loves to hear what projects our dumpsters were involved in, how we helped and what we can do better for the future.
Partly curiosity at what types of needs our dumpsters can fulfill and partly because we love our job and want to continue to do it day in and day out, our feedback posts are important to every team member.  However, we recognize that as trends change, the world gets faster and the needs of businesses and families evolve to match their environment, we too need to adjust our customer care practices and stay consistent in delivering phenomenal service in order to meet the requirements of the future.
We appreciate all of our customers and the unique projects we can assist them on.  Whether it's a standard bathroom renovation or an emergency situation like Ronald's, we want you to know that we have your back.  With skilled professionals ready to handle any on-site obstacles to ensure the most successful use of your dumpster, affordable rates, speedy same day delivery and an ample inventory of container sizes, we can handle anything you throw at us and help take some of the stress off your shoulders.
A huge thank you to Ronald and all of our Same Day Dumpsters customers around the Chicagoland area.  If there is anything we can do to improve your dumpster rental experience, please do not hesitate to let us know.  No matter the situation – We've got you covered!
SAME DAY DUMPSTERS – 630.716.1030
Call For Information Or To Book An Appointment