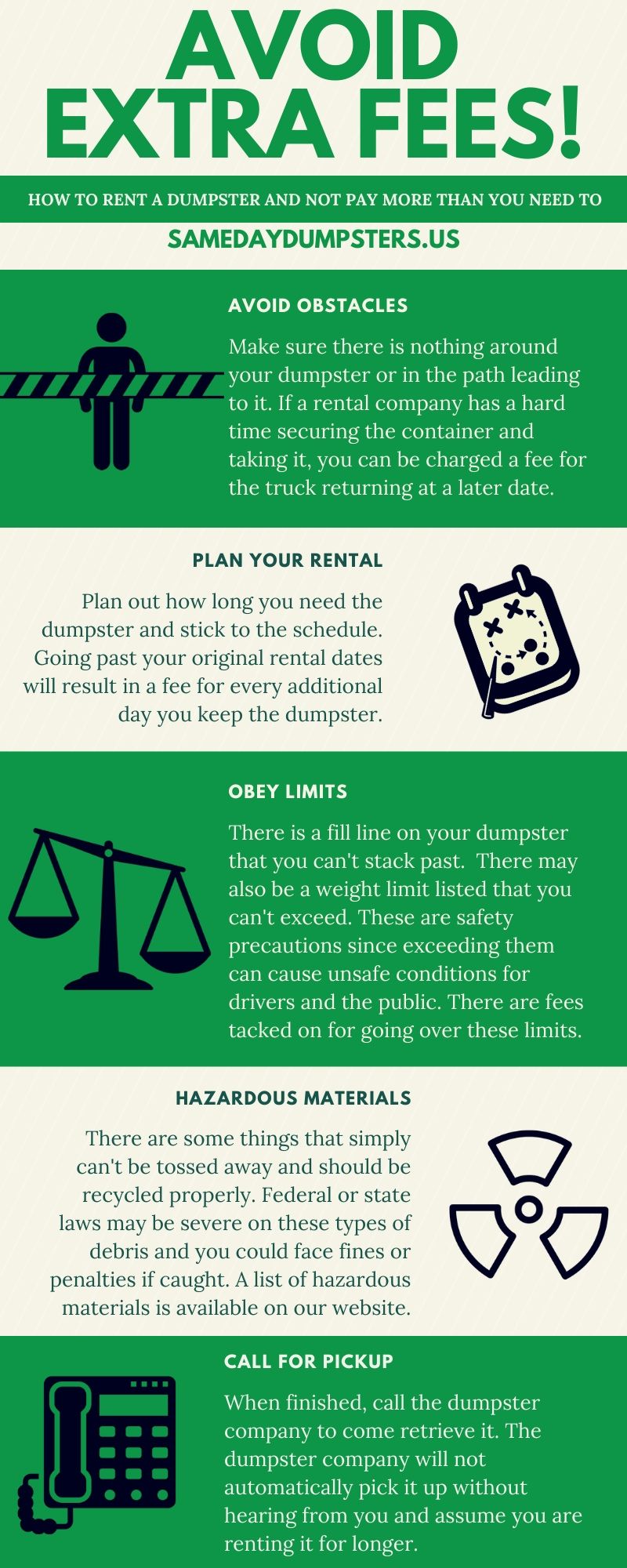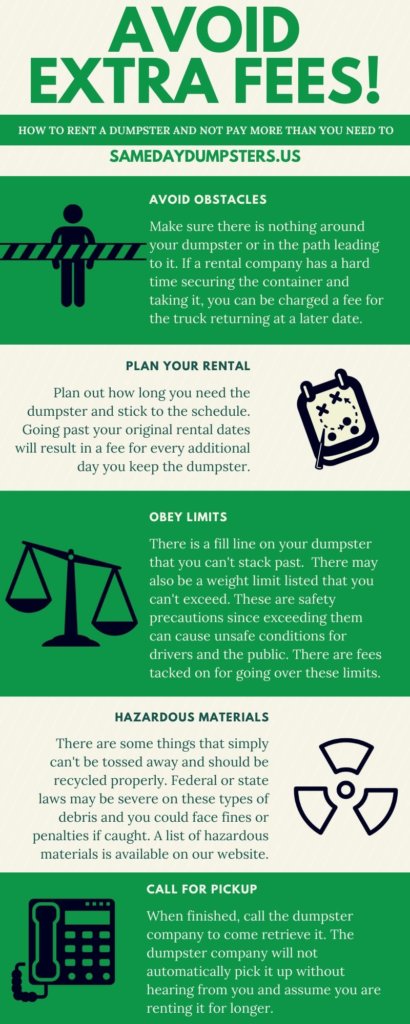 Avoid Extra Fees!
How To Rent A Dumpster And Not Pay More Than You Need To
When it comes to renting a dumpster, you deserve transparency in pricing.  If you follow all of the contract terms, limits and laws, there is no reason you should be charged more than what you were quoted.  If you exceed weight or fill limits, damage the dumpster, carry hazardous materials or simply exceed your rental period, you will definitely be charged extra fees.  Stay within your limits, mind your time and make sure you are following all terms in order to keep your rental price reasonable.
Speak with your dumpster rental company up front about fees associated with your rental.  Make sure the price they quote you has no hidden fuel surcharge, travel fees or driver tips.  If you feel the company you are working with is not being transparent in their pricing, use another dumpster service.  It's important to ask these questions prior to scheduling a dumpster.  Use the tips below to make sure you don't violate terms unknowingly and get charged for it!
Avoid Obstacles
Make sure there is nothing around your dumpster or in the path leading to it. If a rental company has a hard time securing the container and taking it, you can be charged a fee for the truck returning at a later date.
Plan Your Rental
Plan out how long you need the dumpster and stick to the schedule. Going past your original rental dates will result in a fee for every additional day you keep the dumpster.
Obey Limits
There is a fill line on your dumpster that you can't stack past. There may also be a weight limit listed that you can't exceed. These are safety precautions since exceeding them can cause unsafe conditions for drivers and the public. There are fees tacked on for going over these limits.
Hazardous Materials
There are some things that simply can't be tossed away and should be recycled properly. Federal or state laws may be severe on these types of debris and you could face fines or penalties if caught. A list of hazardous materials is available on our website.
Call For Pickup
When finished, call the dumpster company to come retrieve it. The dumpster company will not automatically pick it up without hearing from you and assume you are renting it for longer.
For Your Convenience, We Have 10 Locations To Serve All Of Your Dumpster Rental Needs!
Dumpsters in Elk Grove Village
Bolingbrook Same Day Dumpster Rentals
Dumpsters for Rent in Hickory Hills
Dumpster Rentals in Schaumburg