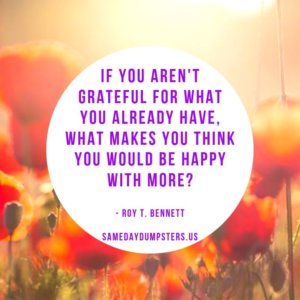 "If you aren't grateful for what you already have, what makes you think you would be happy with more?" – Roy T. Bennett
Everyone seems to think that more of something will solve all of their problems.  More money, more time, more, more, more.  The truth is that solving problems lies within you.  How you approach a situation, how you strategize a solution, what your attitude is going into and coming out of it, the actions you take to implement solutions, etc.  If you believe that an outside entity can swoop in and magically solve your problems for you, then you are going to find yourself with even more of the same troubles.  It's YOU who fixes problems, not money or time.  It's the mentality YOU set and the action YOU take.
You may gain more money or more time but you will still have obstacles, perhaps more, because you aren't equipped to solve them in the first place.  You rely on outside forces that are simply band-aids.  Instead of fixing the leaking pipe, you are using "more" to tie a handkerchief around it and hope it plugs up the hole.
This is something that carries through in every aspect of life.  Simple appreciation.
At Same Day Dumpsters we make sure to never lose sight of how we got where we are and how to get where we are going.  We don't forsake our customers and wish we had "more" to keep and grow our business.  Our customers are the lifeblood of our business; the very reason our staff get out of bed and consistently work hard.  We are grateful for the opportunity to serve and help neighbors in the very communities in which we live, raise families and thrive.
As we deliver our trusty blue dumpsters, we continue to make our customers the number one priority.  We appreciate that they have a choice in dumpster rentals and that they select us to work with them time and time again.  This is something we do not take lightly.  Instead of constantly seeking something more and overlooking our current and past customers, we push harder to make sure they have the same great experience each and every time.  Of course we enjoy growing and expanding to help even more people in the Chicagoland area but we never take for granted the people we have and do help now.
While you pursue new goals for yourself, never look down on what you have right now.  It's the very thing that motivates you and allows you to reach further to pursue those other dreams to begin with.