Toggle title
Toggle content goes here, click edit button to change this text.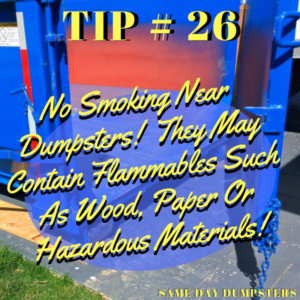 No Smoking Near Dumpsters!  They May Contain Flammables Such As Wood, Paper Or Hazardous Materials!
If you or your workers smoke, you should designate an area far from any dumpster rental.  Debris inside the bin could be composed of wood or paper and become instant kindling for a fire that may rage out of control.  You also have to be careful because hazardous materials might have made there way inside the container that, when met with a single spark or flame, could create an explosion or chemical fire.