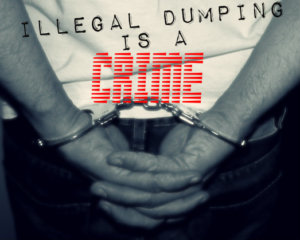 It never fails.  You secure a dumpster rental to dispose of the debris from your new project and you notice that you've become the local dump!  People have discarded trash, project materials and debris or landscaping refuse into your container.  If they are for eliminating debris, then what's so wrong with tossing garbage into a dumpster rental?
It's Illegal!
Tossing your waste into someone's dumpster rental without their permission is considered theft of services because you have to pay for whatever is inside.  Municipalities are different but in many cities, this type of illegal dumping is considered a misdemeanor that carries fines from $500 and up and possible jail time.
Many times people see a dumpster and assume it's the same as a public trash receptacle.  They legitimately do not know it is illegal to toss their refuse into your dumpster rental.  In some cases you have a sneaky contractor who's trying to get out of having to cough up the dough to rent another dumpster or a homeowner trying to avoid disposal cost and unload a mass of debris.  No matter who's dumping into your container, it could cost you big time.  You could be charged for overfilling the dumpster, blowing a weight allowance or having to pay extra fines because someone tossed hazardous materials in there.
10 Tips To Thwart Illegal Dumping
1.  Put It On Lock Down – If possible, keep the dumpster in a secure area.  By placing your dumpster rental inside a fence perimeter or behind a gate, a criminal is less likely to fill your container if they have to scale a fence hoisting a fridge on their back.
2.  Light It Up – Criminals love the cover of darkness to hide their crimes so if you have the dumpster in a well-lit area you increase their risk of getting caught.  This causes many illegal dumpers to think twice.
3.  Signs Save The Day – Post a sign on your dumpster rental that states it isn't for public use and that this type of dumping is illegal.  Many times a person may honestly not know that it's against the law and a sign could help them from making a grave mistake in the future.  In the case of those who DO know it's illegal, you may want to mention on your sign that your dumpster rental is under video surveillance to dissuade them.
4.  Plan Your Load – When you schedule your dumpster to be on your site, make sure you fill it fast so you don't have it hanging around longer than needed.  Either pile up all of your debris in an area and fill the dumpster when it arrives or only have it delivered on demo day when you are there to supervise the fill.  Then you can have the dumpster hauled off and take away any temptation to use it.
5.  Cover It Up –  Make sure your dumpster is covered when not in use to avoid folks tossing things into it.  You can head to a big box hardware store and purchase a cheap tarp and some bungee cords.  Once you secure your rental, you have increased the likelihood of the criminal getting caught because now they would have to spend time fidgeting with the cover in an attempt to get it off.
6.  Avoid The Street – If you can, try and have your dumpster rental placed close to the house or area of demolition.  By keeping a dumpster away from busy roadways or access paths, it makes it much more difficult for a criminal because they can't just drive up and toss.  They would need to walk through a property to get to the dumpster creating an unappealing situation for someone who wants to make a quick getaway.
7.  Alert Neighbors – Let the neighbors know that you will have a dumpster rental on your property and ask if they could keep an eye out for suspicious activity because it is illegal to dump into the container without your permission.  This serves a dual purpose because now your neighbors, especially if you don't know them, are less likely to use it if they know it's illegal and are more likely to keep an eye out for criminals.
8.  Keep Your Rental Short – Never rent a dumpster if you won't be at the property for long stretches or if the work is stalled or put on pause.  The longer a dumpster sits unused and unattended, the more appealing it becomes to an illegal dumper.
9.  Candid Camera – Depending on your area, the length of the dumpster rental and what kind of project you're doing, you may want to consider installing a simple security camera.  Criminals tend to avoid monitored areas and there are a large variety of cameras at very affordable prices.
10.  Peer Into Your Dumpster – Take a look into your dumpster each day when you first arrive on the job site.  If you notice debris that isn't yours, see if you can find any identifying items like receipts or labels.  Depending on what was tossed in, you may want to call your local authorities and have them investigate further.
By utilizing some of these tips, you could avoid a situation that could cost you extra fees.  If you find yourself victim to illegal dumping, contact your local dumpster rental company and see if they have any suggestions.  Usually, a dumpster rental company is not liable for what someone has tossed into your container but they might be willing to work with you on this.
Now that you know how to thwart illegal dumping, you are ready to  book your cheap dumpster rental today!