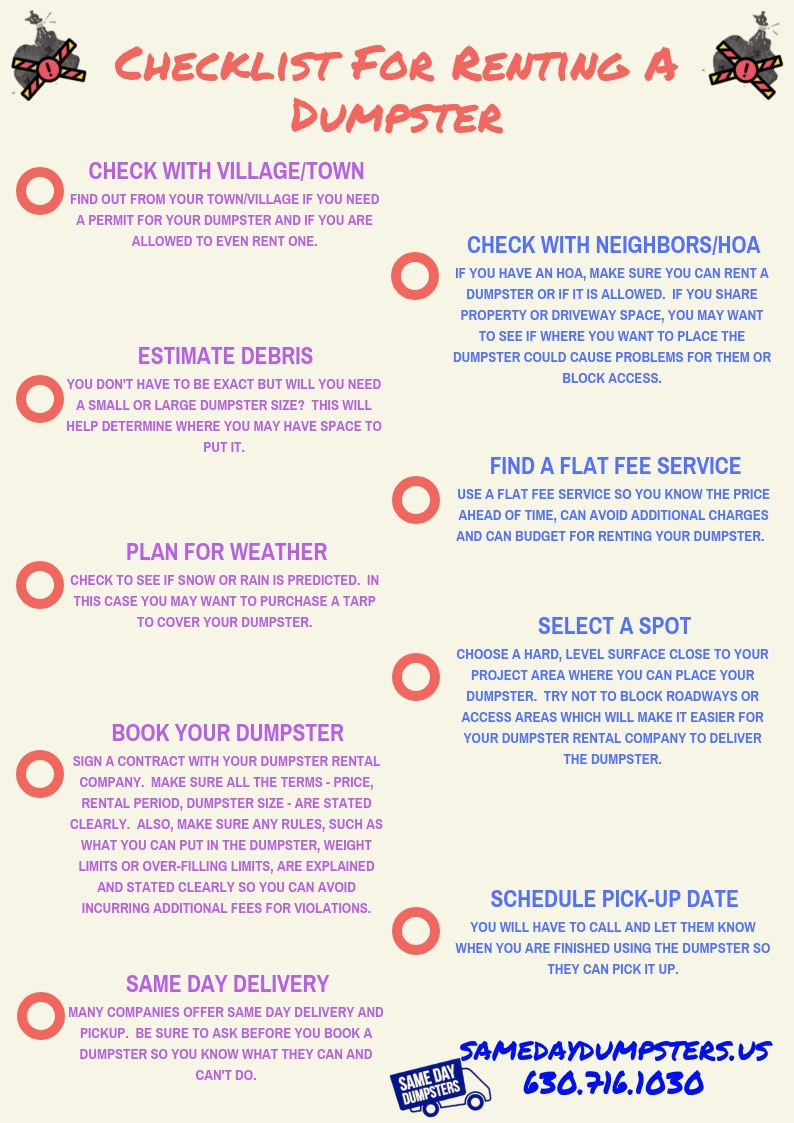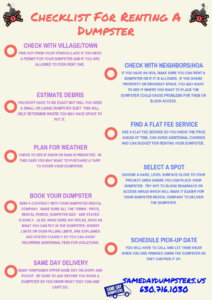 CHECK WITH VILLAGE/TOWN –
Find out from your town/village if you need a permit for your dumpster and if you are allowed to even rent one.
CHECK WITH NEIGHBORS/HOA –
If you have an HOA, make sure you can rent a dumpster or if it is allowed.  if you share property or driveway space , you may want to see if where you want to place the dumpster could cause problems for them or block access.
ESTIMATE DEBRIS –
You don't have to be exact but will you need a small or large dumpster?  This will help determine where you may have space to put it.
FIND A FLAT FEE SERVICE –
Use a Flat Fee Service so you know the price ahead of time, can avoid additional fees and can budget for renting your dumpster.
PLAN FOR WEATHER –
Check to see if snow or rain is predicted.  In this case you may want to purchase a tarp to cover your dumpster.
SELECT A SPOT –
Choose a hard, level surface close to your project area where you can place your dumpster.  Try not to block roadways or access areas which will make it easier for your dumpster rental company to deliver the dumpster.
BOOK YOUR DUMPSTER –
Sign a contract with your dumpster rental company.  Make sure all the terms – price, rental period, dumpster size – are stated clearly.  Also, make sure any rules, such as what you can put in the dumpster, weight limits or over-filling limits, are explained and stated clearly so you can avoid incurring additional fees for violations.
SCHEDULE PICK-UP DATE –
You will have to call and let them know when you are finished using the dumpster so they can pick it up.
SAME DAY DELIVERY –
Many companies offer same day delivery and pickup.  Be sure to ask before you book a dumpster so you know what they can and can't do.