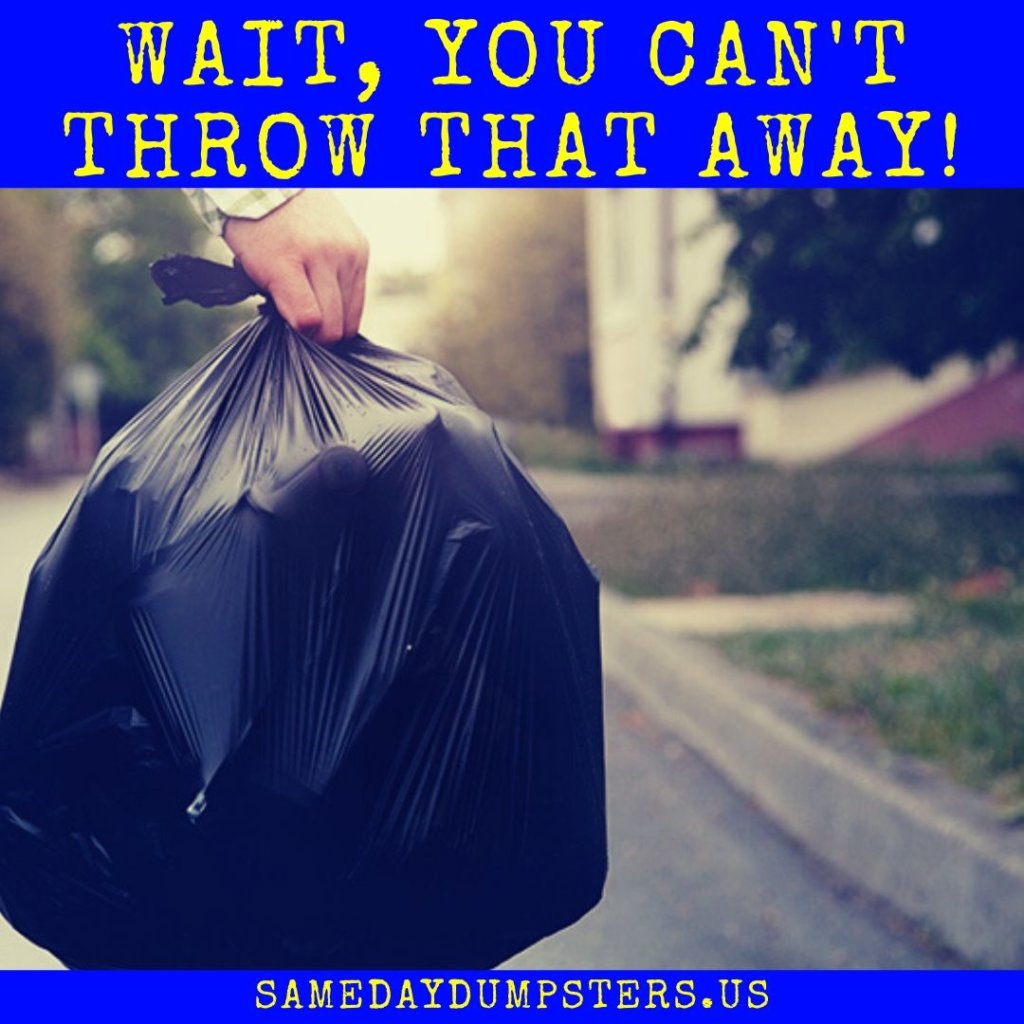 While we have already covered What You Can't Throw Into A Dumpster Rental, you might be surprised to know that there are similar restrictions on your home trash.  There has never been a sign or warning passed down from elders on items fit for the trash.  If something is broken or expired, we tend to toss it without a second thought.  Unfortunately for us (later down the line) some of those items we threw out will come back to haunt us.
Here's a quick preview of items that should DEFINITELY not go into your everyday trash can.
CHEMICALS – Bleach, pesticides, solvents and corrosives should NOT go into your trash.  They can greatly harm our environment, animals and humans they come into contact with.  In order to get rid of these things safely, you have to find a hazardous waste drop-off facility near you.
BATTERIES – How many of us are guilty of this?  When batteries are kaput, whether they are AA, C, button cell – whatever, we toss them into the trash where they eventually meet their fate through an incinerator or landfill.  Sadly, they are chock-full of cadmium, mercury and lead so when they're casing is pierced or disintegrated, those chemicals leak and wreak havoc.  To keep those chemicals out of our water and land, you need to recycle them through the proper channels.  The chemicals can be recycled and put to use in new batteries.
CAR BATTERIES – Don't leave them in your trash or tossed in your garage.  Like regular batteries, the chemicals inside can cause great harm to us and our world if let loose.  Fortunately, almost 97% of a car battery can be reused.  They can even grind up the plastic casing for reuse.  Take old batteries to an auto shop or car battery supplier and they will properly recycle them for you.
ELECTRONICS – Nearly all of the electronics you commonly use house some pretty nasty fluids.  These liquids can hurt us, animals and pollute our water and earth.  Take a look at what you need to get rid of those broken, tired sets…
TVs – Most televisions contain lead, nickel, cadmium, mercury and other heinous stuff.
Computers/Monitors – Here we go with the lead, cadmium and… ARSENIC?!?  The other nasty part of tossing them out is that if you leave your hard drive intact, anyone can get access to your personal information.  Either have a computer shop destroy the hard drive for you or do it yourself.  After that you can properly dispose of the computer.
Cell Phones, Etc. – Printers, VCRs, radios, etc., etc.,  – none of these belong in a trash can.  The metals and plastics contained within can be recycled and keep us from having to mine for more.  If they are in a landfill, they can break down and contaminate the earth, our drinking water, cause health problems in us and can pose fatal for animals.
PAINTS – This should be fairly obvious but paint can be a nasty customer that can get into our drinking water.  Dried paint and empty paint cans can be tossed but fresh paints are no-nos.  Find a way to dry it first such as mixing it with kitty litter, sawdust or sand.  You can even donate paint to churches, community centers or through village programs.
APPLIANCES – Fridges and microwaves need to be recycled via a community program or retail establishment.  Microwaves are considered e-waste and can be hazardous because they house a residual charge.  Fridges contain a very dangerous element called refrigerant.  For a more in-depth look at appliance recycling, check out How To Recycle That Old Fridge.
MEDICAL – Medical waste, needles and sharps should never find their way into your trash can.  Anyone who comes into contact with these items is at risk for infection or heinous bacteria.  You should only dispose of such items in a medical container usually labeled as a sharps disposal container.  Unused or expired prescription drugs need to be handled correctly otherwise they can seep into our our soil and water supply.  There are usually drug take back events where you can dispose of them, you can ask your local pharmacy, village hall or even check out the FDA's Tips On Disposing Of Medication.
For more information on where you can take these items for proper disposal, you can ask your local village or town hall if they have any community programs or contact earth911.com to locate recycling facilities in your area for nearly everything.  For e-waste such as televisions, cell phones, computers, etc., contact your local electronics stores and inquire about programs they have for recycling.  No matter what, think twice about what you are tossing into that bag before it creeps up again on you down the line.
To find out how our dumpster rentals can help you, give us a call at 630.716.1030 or click here >>> Same Day Dumpsters!