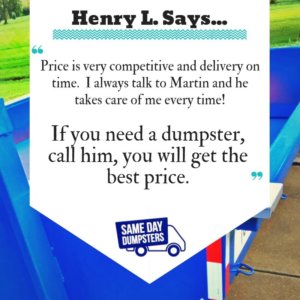 "Price is very competitive and delivery on time.  I always talk to Martin and he takes care of me every time!  If you need a dumpster, call him, you will get the best price." – Henry L.
Short, Sweet and To The Point…
At Same Day Dumpsters, we believe in getting right to the point.  No long, drawn-out wait times or endless questions with little results.  Your project is a priority and we treat it as such.  No matter the project type or complexity, you need a dumpster at your site as fast as possible.  You need to know the company you're using is going to be there on time, EVERY time.  You need to know that they can troubleshoot complex situations to make sure your dumpster is in a key spot that causes no damage and maximizes the efficiency of your project.
That's what we do.
No fuss, no muss – a trusty blue dumpster where you need it.  No endless phone calls or drivers dragging their feet – just speedy and courteous service.  Knowledge and communication instead of blundering and carelessness.  THAT is the Same Day difference.
We are always ready to handle whatever project type, size and requirements you may need with the same great customer service Chicagoland has come to depend on.  This is why we make appointments on the PHONE ONLY.  Because we believe in old-fashioned customer service.  Not internet failures dropping your bookings or a faceless entity chattering a programmed response.  We want to speak to you.  We want to understand what you need and how you want it.
You talk directly to us and we address your unique situation as quickly as possible.
We couldn't be happier to serve folks like Henry and yourself and take pride in delivering Same Day Dumpsters throughout Chicagoland.  If you see a trusty blue dumpster while you're out and about, be sure to say hello!
SAME DAY DUMPSTERS – 630.716.1030
Call For Information Or To Book An Appointment