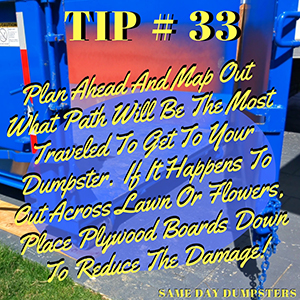 Plan Ahead And Map Out What Path Will Be The Most Traveled To Get To Your Dumpster.  If It Happens To Cut Across Lawn Or Flowers, Place Plywood Boards Down To Reduce The Damage!
Whether you are doing a light remodel to your own home or renovating a vacant home to flip, you have to prepare space for your dumpster rental.  Once you know where you will put it, take a moment to walk from the work area to where the dumpster will be.  What is the path you will most likely take?  What is the easiest, most logical way to remove debris and get it to the dumpster rental?
Once you have this scouted out, take a look at the path itself.  Will you be crossing over the lawn or fresh flowerbeds?  Will you be maneuvering around tight corners or risk hitting furniture?  If you can, prepare the debris path to protect whatever is at risk.  For instance, if having to keep crossing a lawn or flower area, put the plywood down so you aren't continually tearing up the grass or kicking through flowerbeds.  While you are flattening the area, it is better than tearing it to pieces.  Just make sure you only keep the plywood down a few days otherwise you increase the potential for the grass to die.
If you are coming around tight corners, you may want to consider placing drop cloths on the walls to reduce the risk of dinges or chips.  For any furniture that might be a target, you can wrap them in plastic or hang drop cloths over them.  You can even purchase foam corner cushions or use pieces of cardboard to protect those delicate spaces.  The point is that you keep the mess contained and prevent repairs that might be required because of damage.  This way you can focus on the project at hand and swiftly removing debris and not add any more work to your plate.