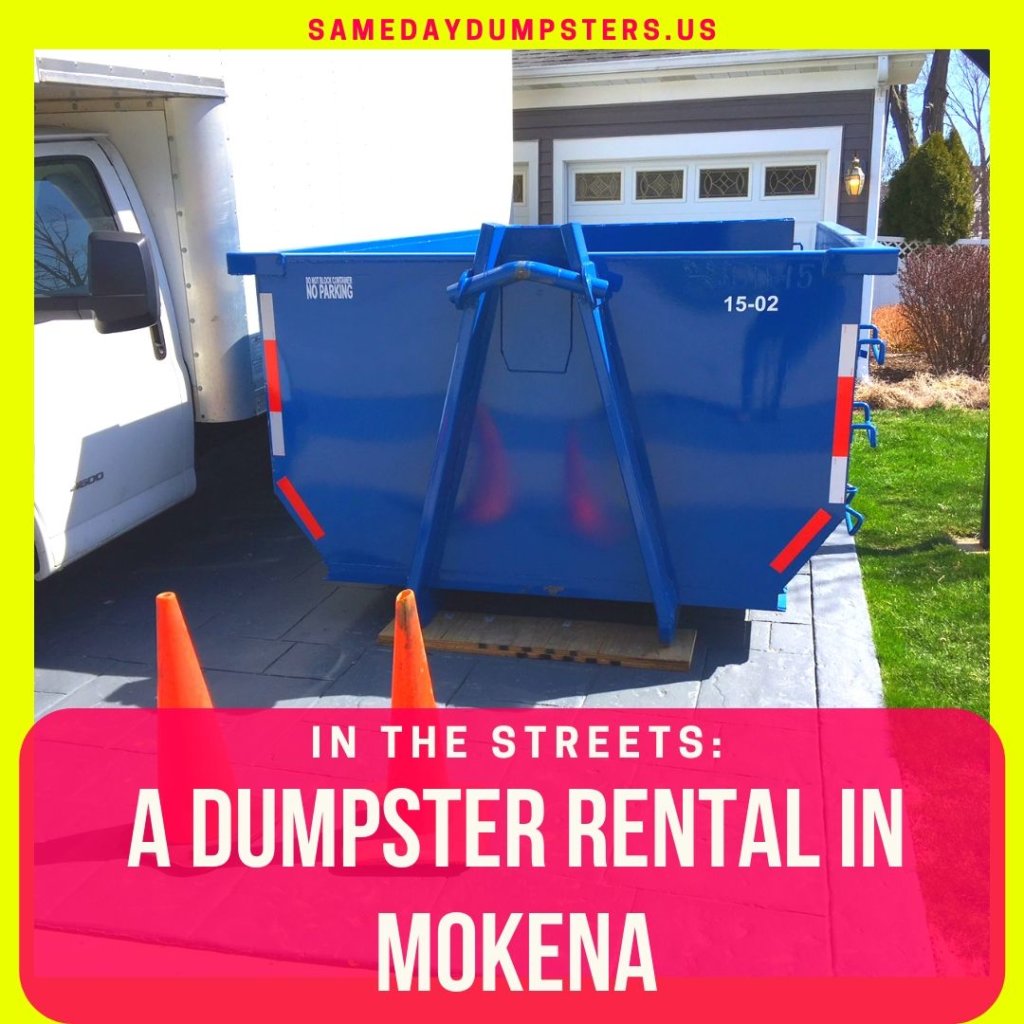 In The Streets: A Dumpster Rental in Mokena
This installment of "In The Streets" finds us in the south suburb of Mokena, Illinois.   Richard Burnett sent us this photo of one of our 15 yard dumpster rentals being put to good use in a relocation for his brother.  A household of items needed to be pared down and what was left moved out of state.  After several donations to charity, the massive amount of stuff collected made Richard realize it was time to rent a dumpster.
According to Mr. Burnett, his brother had saved several households worth of deceased family members belongings.  What was sentimental was packed securely for the move but there was still a large amount of stuff remaining.  They had donated bags of clothing, furniture, knick-knacks and other useful items to AmVets, Salvation Army and Goodwill but still ended up with rooms full of broken or unusable materials.  Because of time and energy needed for such an endeavor, Richard hired a couple of guys off of Craigslist to haul the remainder to a Same Day Dumpster.
Mr. Burnett had simply Googled dumpster companies and looked into several before deciding to use Same Day Dumpsters.  What clinched it for him was our reputation and price.  He was even impressed with how quickly the dumpster arrived and with how much care we put into preserving the driveway from damage.  Our driver not only secured the dumpster but thoroughly addressed the significant amount of rubbish needing to be removed by offering a couple of tips on how to pack the dumpster more efficiently.
We can't thank Richard enough for sharing his story with us and allowing us to take a peek at what some folks do with our dumpsters.  It's fascinating to see the different situations a dumpster can help alleviate or what types of projects they might be used for.  Being able to serve the folks of the Chicago suburbs and Mokena area is definitely a highlight of our job so if you see a trusty blue dumpster rolling past, be sure and tell us hello!
We LOVE to hear what projects you are using a Same Day Dumpster for so send us a photo!
Would you like to submit a photo for your chance to be featured in our "In The Streets" series?  Please leave a comment below or use our contact form to reach us and let us know!
If you are ready to tackle your next big project and need a dumpster rental in Mokena, find out how we can be of service to you!