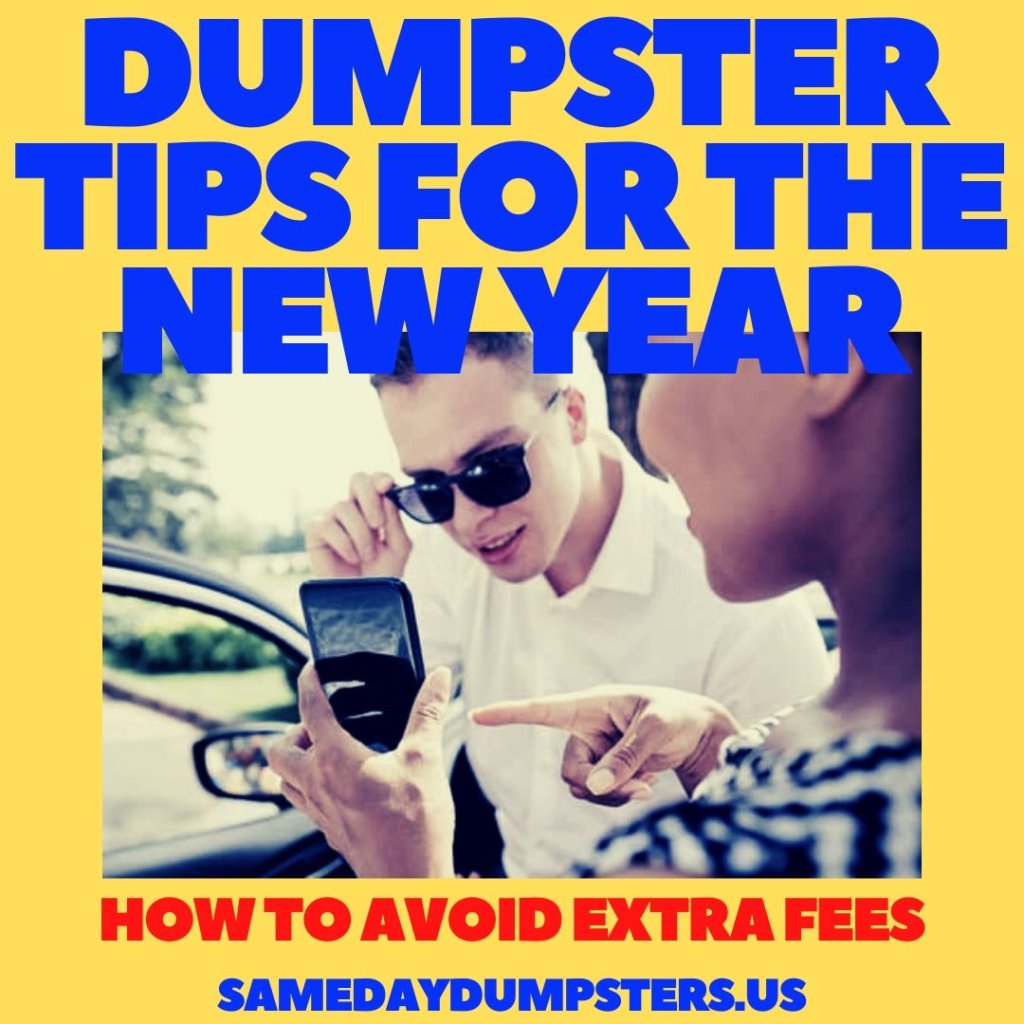 As we soar into 2020, we are energized with feelings of a fresh start, accomplishing forgotten goals and getting our lives back on track.  You may have been putting off that bathroom remodel and are finally sick of the 90's fixtures glaring angrily back at you.  Perhaps, as you go to put away those Christmas decorations, you realize that your garage, attic or basement is beyond bursting and a potential fire hazard.  That pile of junk dragging you down doesn't belong in your fresh slate path and you might finally be ready to let it go.  Whatever the reason, you're ordering a dumpster and getting set to cross these cast aside projects off of your list once and for all.
Ordering a dumpster is easy, filling it can be satisfying but ending up with a bill for additional fees is no picnic.
Some dumpster rental companies near you charge extra fees for certain violations of their contract or general use of the container.  Before you rent a dumpster, it's important to understand what is expected of you and what you can or can't do with it.  Here are a few key things to keep in mind as you eliminate that junk hoard or rubbish from your property…
Make sure you have an accessible path for the dumpster rental company.  In other words, if you put obstacles in the roadway or along the path to the dumpster, the rental company will have a hard time securing the container and taking it.  If this happens, you can be charged a fee for the truck having to return at a later date and time.
Plan out how long you will need the dumpster prior to renting.  You get a set amount of days that you can keep the dumpster for and going past that will result in an additional fee for every day you keep the container over that period.
Make sure what you put into the dumpster doesn't weigh more than that container is allowed to carry safely.  Just because you can fit all of your debris inside doesn't mean that you should.  Some items or materials, such as stone, concrete, etc., are quite heavy and will reach the weigh limit faster.  Going over this limit will result in extra fees.  To help avoid this, discuss your project with the rental company.  They can advise you on the best dumpster size for your needs.
There is a fill line on your dumpster rental.  You should NOT stack debris higher than this line.  The fill line is the amount of debris that can be transported safely.  Going over this line can result in spills on roadways, which can cause severe injury or worse to other drivers, pedestrians or the dumpster rental company employees themselves.
No dumpster company can carry hazardous materials.  Federal and state laws may be severe on certain types of debris and can cause severe fines or penalties to be levied.  You are also putting those exposed to the materials at risk.  Here are some of the items you need to take extra consideration in getting rid of – Hazardous Materials List.
When you are finished with your dumpster, call the dumpster rental company to come get it.  They will

NOT

automatically come retrieve it after your rental period so you need to let them know when you are done using it.  You will incur additional rental fees for every day that you have the dumpster past the rental period so be sure to let them know when you need it scooped up from your property.
These common mistakes can be easily avoided by following the rules laid out by your dumpster rental company and the contract you sign.  If you need items clarified, do not hesitate to ask.  Your dumpster rental company takes no pleasure in charging extra fees because it usually means more work or an unsafe situation for them to be in to begin with.  It's always better to be safe than sorry so make sure you understand how you can use the dumpster and proper practices so you can avoid hefty fees tacked on at the end.
To find out how our dumpster rentals can help you, give us a call at 630.716.1030 or click here >>> Same Day Dumpsters!