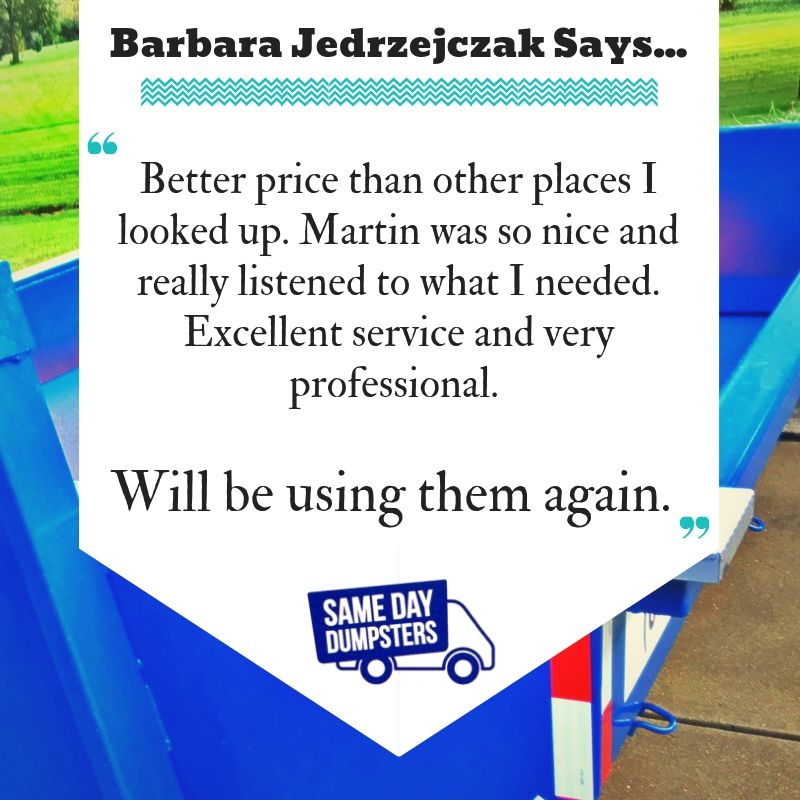 "Better price than other places I looked up.  Martin was so nice and really listened to what I needed.  Excellent service and very professional.  Will be using them again." – Barbara Jedrzejczak
Your Expectations Exceeded
Are you tired of companies that don't pay attention to what you want?  Always seem like your order isn't right or your needs aren't being met?  Guess what?
That is COMPLETELY unacceptable.
Same Day Dumpsters believes wholeheartedly that the care we put into our customer service can make or break a situation.  When you're dealing with a stressful situation or have a complex project that needs the right amount of consideration and planning, you need a reliable company who works WITH you.  We pride ourselves on listening to every need and going out of our way to ensure a successful rental for each and every customer.
Our professionals are trained to scale obstacles and find creative solutions for whatever should arise.  They are committed to tackling on-site issues and offering the fastest and most professional service possible.  All of our experience over the years providing dumpsters to the Chicagoland area has fine-tuned how efficiently we handle our customer's needs.  Our customers come first and we strive to not only meet your expectations for a dumpster rental company but to exceed them.
A huge thanks to Barbara for leaving us amazing feedback on how we performed for her and we look forward to working with her in the future.  When you're ready to experience our amazing service, affordable prices and variety of options for yourself, give Same Day Dumpsters a call!
SAME DAY DUMPSTERS – 630.716.1030
Call For Information Or To Book An Appointment
If you want to see why our customers continue to remain loyal through the years, contact the Lemont dumpster rental location and see what our services can do for you!