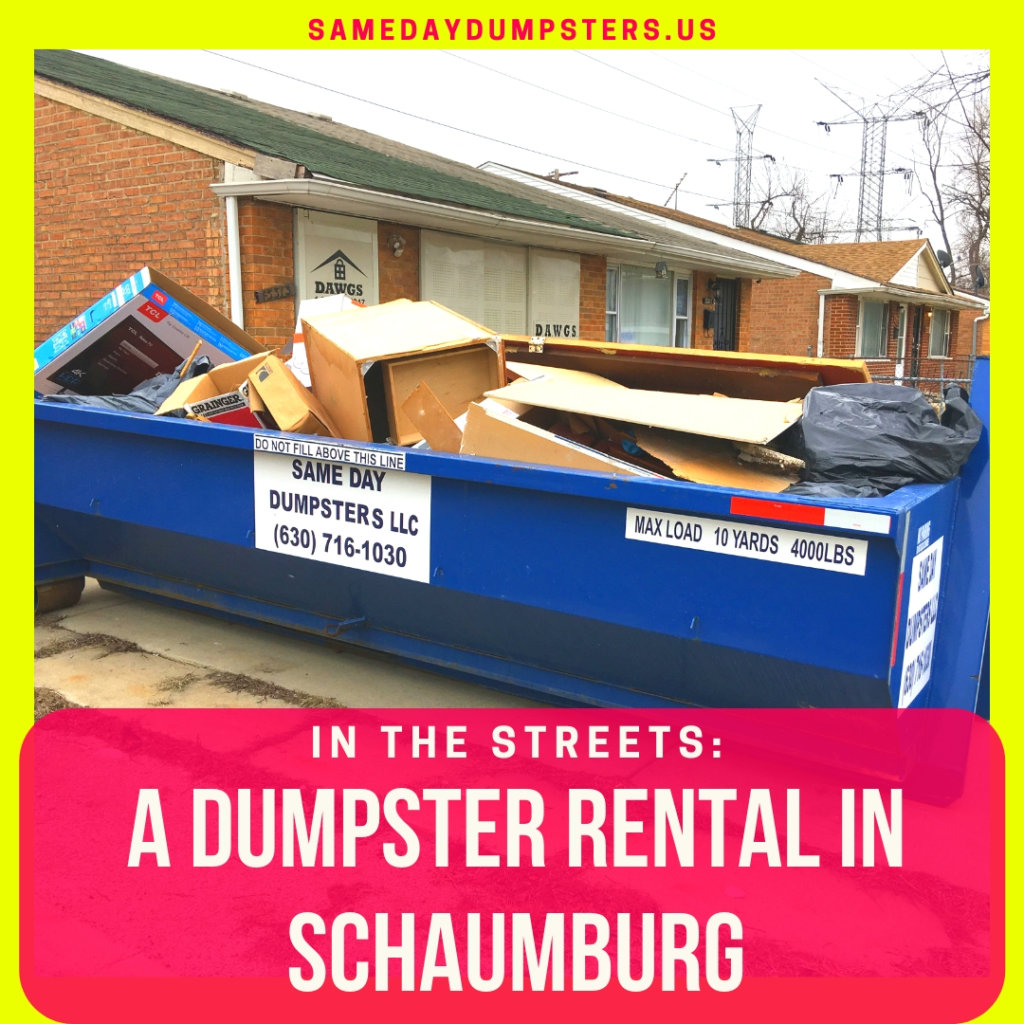 In The Streets: A Dumpster Rental in Schaumburg
"In The Streets" highlights the adventures of Mr. Andy Clark in Schaumburg, Illinois.  Andy had just bought a home in the area that needed a whole helping of TLC.  The only issue was that Andy had a tight rehab budget and couldn't afford a lot of excess charges.  This young homeowner had to make a lot of tough decisions in order to restore his new home to glory.
According to Mr. Clark, the foundation of the home was strong and the guts were still viable.  There was water damage in the living room and second bedroom that required drywall and studs to be replaced in those two rooms but other than that, the home mostly needed cosmetic changes.  Andy upgraded the bathrooms and kitchen while painting the rest of the home and refinishing the existing hardwood throughout the rest.  We wish Andy the best of luck on this project and look forward to his plans at the end of the summer to spruce up the front yard landscaping and repair the driveway and porch concrete!
The necessary repairs on this home had Andy in a very tight spot, budget wise, and he only had a certain amount in which he could rent a dumpster so he searched on Google for an affordable and reliable dumpster rental service.  After comparing prices, he noticed that Same Day Dumpsters was the most affordable but what really sealed the deal for him were the reviews throughout the web.  Andy felt confident that Same Day Dumpsters was a top-notch company that provided incredible service.  He gave us a call and the rest is history!
We can't thank you enough, Andy, for not only the email you sent us highlighting your story, but for the feedback you left as well.  Every customer has a unique story and we are pleased to hear about what happens out on the streets once we deliver a trusty blue dumpster.  We wish you all the best this summer and look forward to that landscaping project, Mr. Clark!
We LOVE to hear what projects you are using a Same Day Dumpster for so send us a photo!
Would you like to submit a photo for your chance to be featured in our "In The Streets" series?  Please leave a comment below or use our contact form to reach us and let us know!
If you are ready to tackle your next big project and need a dumpster rental in Schaumburg, find out how we can be of service to you!