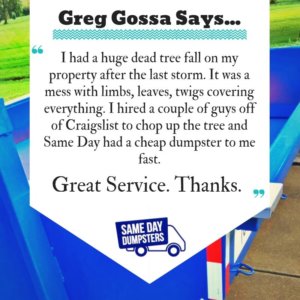 "I had a huge dead tree fall on my property after the last storm.  It was a mess with limbs, leaves, twigs covering everything.  I hired a couple of guys off of Craigslist to chop up the tree and Same Day had a cheap dumpster to me fast.  Great service.  Thanks." – Greg Gossa
When Disaster Strikes…
It doesn't matter where you live, where you grew up, where you work – disaster striking is completely random.  It can happen to anyone at anytime.  Sometimes it's a burst pipe flooding your basement or your foot slipping off of the brake and your car driving right into the garage door.  Many times, it is Mother Nature creating a storm or occurrence so powerful that it wreaks havoc on health and home.
In the case of Greg, a mighty storm felled a dead tree onto his yard.  When something so large comes down with force, it leaves quite a mess in its wake.  The clean up can be a headache and these tend to be the perfect times to rent a bin from your local dumpster rental company.  They were originally invented to get a large amount of debris out of your hair quickly so you know this is what they are built for.  Is your dumpster rental service?
You need a company that can handle disaster and emergencies; a service that is capable of being accommodating, efficient, reliable and professional.  That dumpster can't be late to help alleviate a stressful situation.  It can't be placed haphazardly or it will cause more problems than it's worth.  There shouldn't be price gouging or a staff that doesn't care.  That is the very last thing you need when a dire situation arises.  There's already too much you have to worry about, your dumpster rental service should NOT be one of them.
At Same Day Dumpsters, we believe in putting customers first.  Your situation is unique and should be handled with care and compassion.  We provide consistent, reliable, dedicated service to the Chicagoland area at reasonable prices.
A huge thank you to Greg and all of our Same Day customers – past, present and future!  It's an honor to serve the Chicago suburbs and we are so grateful to be able to provide reliable solutions in times of extreme stress or need.  The next time your pipe bursts or that summer storm attacks your home, give us a call.  We're ready.
SAME DAY DUMPSTERS – 630.716.1030
Call For Information Or To Book An Appointment