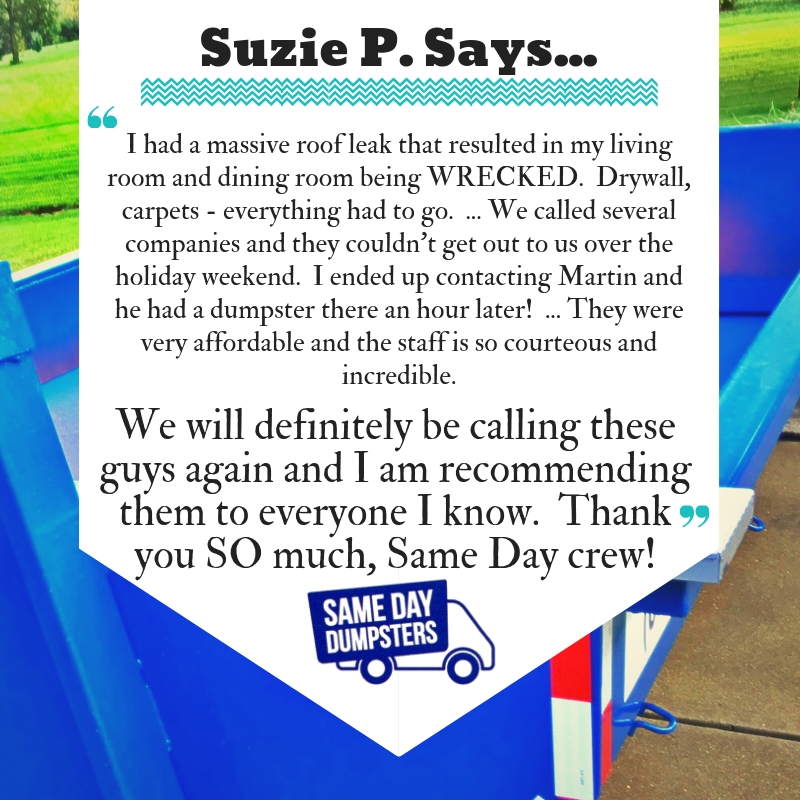 "I had a massive roof leak that resulted in my living room and dining room being WRECKED. Drywall, carpets – everything had to go. We were worried about mold forming and wanted to get that out of there asap. We called several companies and they couldn't get out to us over the holiday weekend. I ended up contacting Martin and he had a dumpster there an hour later! We were able to get everything out and then my husband and brother-in-law began restoring the rooms. We called when we were done removing the damaged stuff and they picked it up fast! They were very affordable and the staff is so courteous and incredible. We will definitely be calling these guys again and I am recommending them to everyone I know. Thank you SO much, Same Day crew!" – Suzie P.
Disaster Happens Regardless Of Holidays…
Holidays are the times when we can share in laughter and memories with our family or simply have the day off of work!  No matter how you celebrate, the idea is to relax, breathe and enjoy yourself but, when disaster strikes, it can be pretty hard to maintain that peaceful mindset.  Accidents and hardships happen regardless of age, gender, race, time, place, financial standing or health.  It's a roll of the dice.
One thing you DON'T want to take a chance on is that help isn't there when you need it.
This very thing happened to Suzie in Burr Ridge.  An unforeseen event caused mass destruction in her home and she was struggling to find proper help during the holiday.  That's where Same Day Dumpsters comes in.  We pride ourselves on being there when you need us. And because technology can fail, we tell all of our clients and future clients to call us.
Our phone line is always reliable and our staff is always ready to handle your needs.  This is why Same Day Dumpsters ONLY books appointments via PHONE – so we can ensure that no program loses your information or makes an error when it comes to your needs.  By calling us, we can address your issue completely and guide you to the best course of action for your project.  No miscommunication – no messages lost in spam or internet nothingness.
You talk directly to us and we address your unique situation as quickly as possible.
We are so grateful that you contacted us, Suzie, and that we could help provide a solution for your situation quickly and efficiently.  Thank you for choosing the trusty blue dumpster of the Chicagoland area and remember that we are always just a phone call away!
SAME DAY DUMPSTERS – 630.716.1030
Call For Information Or To Book An Appointment