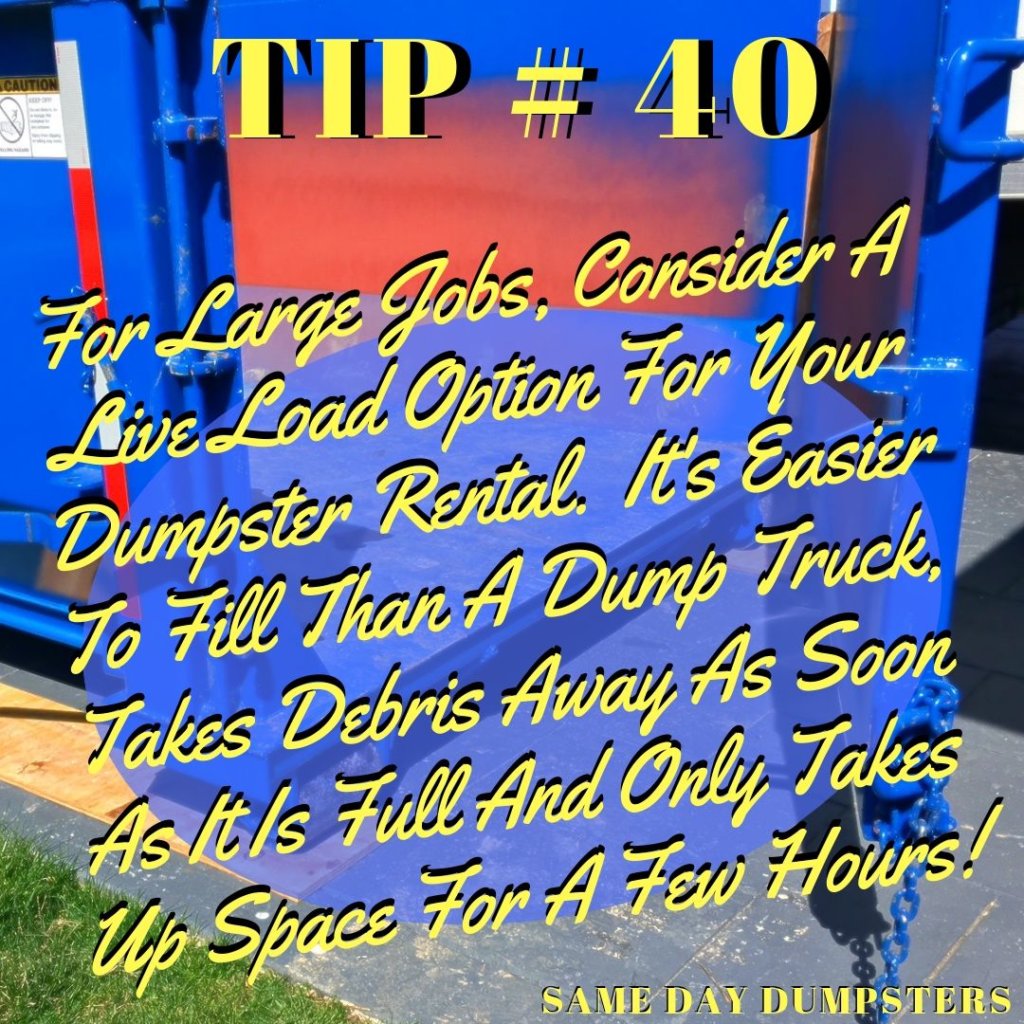 For Large Jobs, Consider A Live Load Option For Your Dumpster Rental.  It's Easier To Fill Than A Dump Truck, Takes Debris Away As Soon As It Is Full And Only Takes Up Space For A Few Hours.
If your project is in a heavily populated metropolis area or is a massive construction job with many different contractors working on it, you might want to consider a live load option.  Live Load is where the dumpster rental driver stays on site until the container is filled and then immediately drives it off to the nearest disposal facility.  This could come in handy if you are trying to complete a project in the heart of a bustling city environment.  Usually there is no room for a dumpster rental with all of the people, traffic and tight spaces.  Instead of causing backups and potentially increasing the risk of an accident to occur or drawing the ire of local police, a live load option helps get a dumpster out of an area as soon as it is finished being used.
The best way to implement this option is to schedule your demolition for a particular set of days so you can coordinate schedules with your dumpster rental company.  If it is a larger construction job, you may need a dumpster every day over the course of several weeks but, if you are filling it up consistently, this might be a better option overall.  Whether or not your project is in the city or the suburbs, you might have a problem of space.  Your job site might be too small to accommodate a large capacity dumpster and it becomes an obstacle for the crew working, which can delay the project.  By having the container removed as soon as it is full can help keep your crew happy and efficient, giving them plenty of space to move around.
Another situation might be if you are working on a project that has more than one company, or contractor, attached to it.  You might be impeding their work by taking up space on the property.
There are several key advantages to a live load.  You can get all the construction debris out of the area in a single day and a dumpster rental is easier to fill than a dump truck which can decrease the amount of time it will take to do your demo.  A dump truck has a cumbersome lift gate but a dumpster rental can be placed on the ground with the door completely open so your crew can immediately walk debris in.  You can also fit up to 10 tons in a 30 yard dumpster but a 22 yard dump truck will only accommodate 3.5 tons safely.  Any equipment you might have on site will also find it easier to load debris into a dumpster rental rather than needing to rent equipment large enough to pass over the top of a dump truck.  Live Load service also allows you to take up less space on a job site and allows crews to maneuver easier.