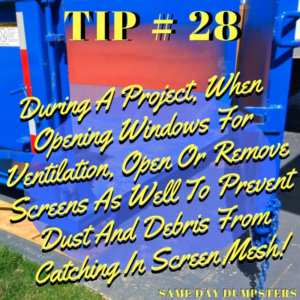 During A Project, When Opening Windows For Ventilation, Open Or Remove Screens As Well To Prevent Dust And Debris From Catching In Screen Mesh!
Home renovations or remodels can be messy or disrupt families still living inside for the duration of the project.  Keeping your work space clean and neat as well as placing special focus on air quality and sealing off entrances can go a long way in preventing harmful dust or pollutants from spreading.  Even the tiniest of openings can cause mounds of dust to layer on furniture, bedding, clothes, etc.  Cover and seal as much as possible before you start any project.
When hauling debris out to a dumpster, be sure to lay a canvas or tarp along the pathway to prevent materials from ruining floors or landscaping.  No matter what project you begin or how you dispose of your debris and excess materials, by vacuuming and containing the mess on a daily basis, you can prevent hazardous particles from setting up shop in the ventilation systems and on belongings.
Make these tips a habit because containing the mess will improve air quality flowing into tiny lungs.
This week's helpful hint comes from the folks at your Lemont Dumpster Rental – be sure to stay tuned each week for more!