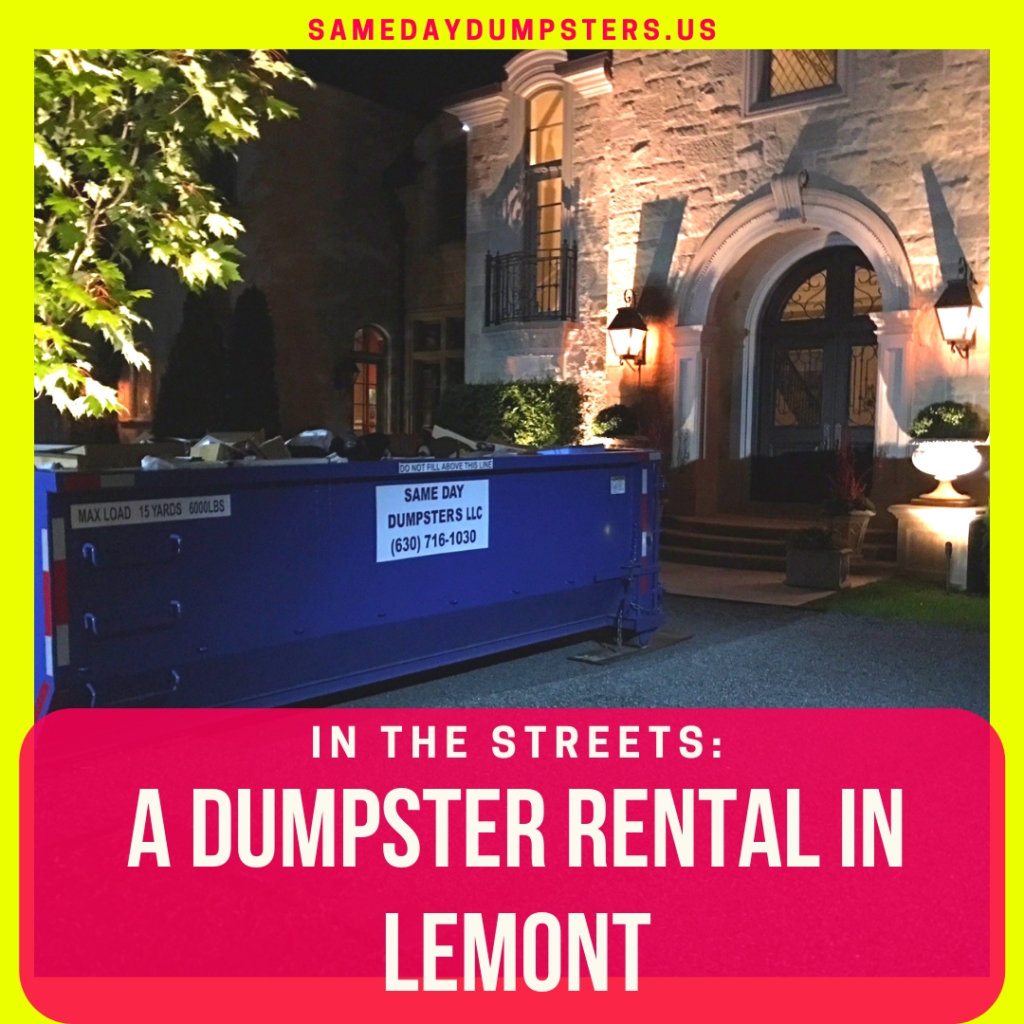 In The Streets: A Dumpster Rental in Lemont
On this installment of "In The Streets" we journey to the beautiful suburb of Lemont!  Valerie Sowell sent us this shot after she had massive leaking in her basement that wrought a bit of destruction to her home.  It was a few days of chaos but everything was eventually handled and brought back to normal.
According to Mrs. Sowell, some plumbing had gone awry and flooded her basement.  Several long stretches of drywall and wood had to be cut away and replaced as well as mold remediation work on the walls and floor.  After talking with her insurance provider and following the necessary procedures, Valerie had a crew suck out standing water and begin the job of cleaning up the aftermath.  Unfortunately, a closet that housed cardboard boxes of files and various family keepsakes was hit and damaged quite a large haul of items.  Valerie also determined that she wasn't going to keep a few pieces of furniture that got the initial brunt of the problem and decided that a personal clean out was in order at the same time the work crew was getting rid of ruined and hazardous materials.
Mrs. Sowell had heard about Same Day Dumpsters through a friend who recently cleaned out her deceased mother's home and decided to give us a try.  She couldn't believe how quick we had a trusty blue dumpster on her property and how affordable our rates were.  When our driver arrived, Valerie had a small concern about the dumpster cracking or damaging her beautiful driveway but she was quickly relieved to find out that we put protective boards down in an attempt to prevent such things from occurring.
Thank you so much, Valerie, for sharing your story with us and allowing us to use your amazing picture in our segment!  We truly appreciate working with you and are beyond happy that your situation was rectified and life returned to normal.  Same Day Dumpsters works hard to accommodate every situation and help alleviate the stress of some of life's more challenging difficulties.  We hope to be able to serve you again in the future!
We LOVE to hear what projects you are using a Same Day Dumpster for so send us a photo!
Would you like to submit a photo for your chance to be featured in our "In The Streets" series?  Please leave a comment below or use our contact form to reach us and let us know!
If you are ready to tackle your next big project and need a dumpster rental in Lemont, find out how we can be of service to you!