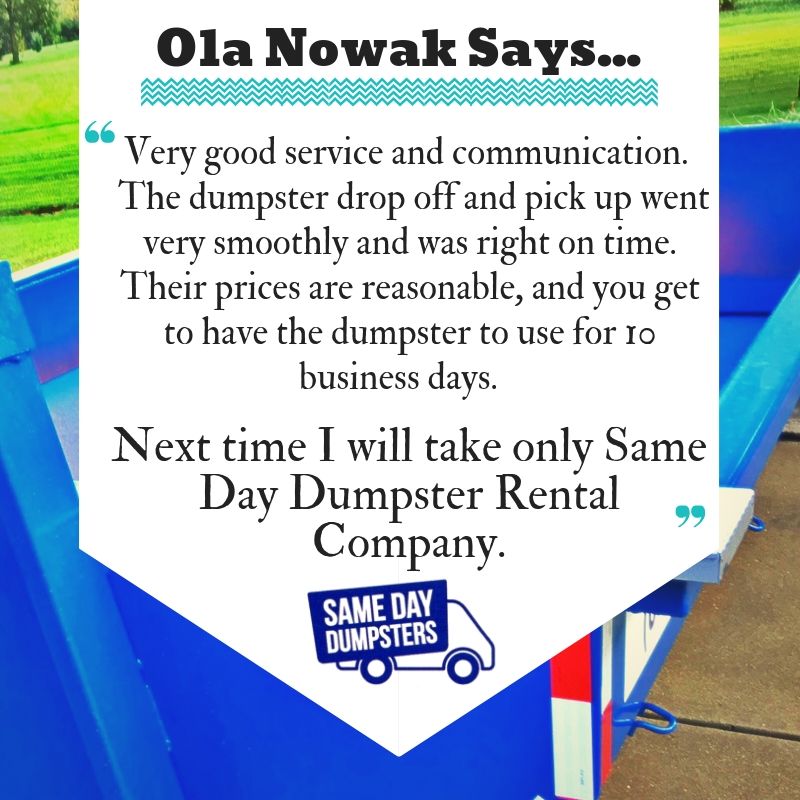 " Very good service and communication.  The dumpster drop off and pick up went very smoothly and was right on time.  Their prices are reasonable and you get to have the dumpster to use for 10 business days.  Next time I will take only Same Day Dumpster Rental Company." – Ola Nowak
Ready For Reasonable?
When you are working on your next big project or need a much needed fix for a problem that has just upended your life, do you really need the stress of an unreliable and overpriced company?  Definitely NOT.
At Same Day Dumpsters, we believe in stress-free solutions.  Our professionals not only deliver our high-quality and super clean dumpsters where you need them but troubleshoot any obstacles that may pop up while on site.  Unlike other companies who need their dumpsters back fast in order to supply other customers, we make sure each customer has more than enough time to take care of their debris removal needs with our ample 10 day rental periods.  No pestering you to finish faster, just great products delivered when you need them.
Between our office staff and our experienced drivers, we make sure to listen and provide quality support to satisfy your questions and/or requests.  Keeping you apprised during the process and providing fantastic customer service is our top priority.  It's not about turnover but about how we can help you solve your problem or best serve your project needs.
Simply give us a call to book one of our dumpsters and let our professionals guide you with the same fast, reliable and affordable services that we have continued to supply to the Chicagoland area for years.
A big thank you to Ola for letting us know how our Same Day Dumpster Rental helped her and we are grateful to be able to serve customers just like her throughout Chicagoland.  When you see our trusty blue dumpsters out and about, give us a big hello shout!
SAME DAY DUMPSTERS – 630.716.1030
Call For Information Or To Book An Appointment