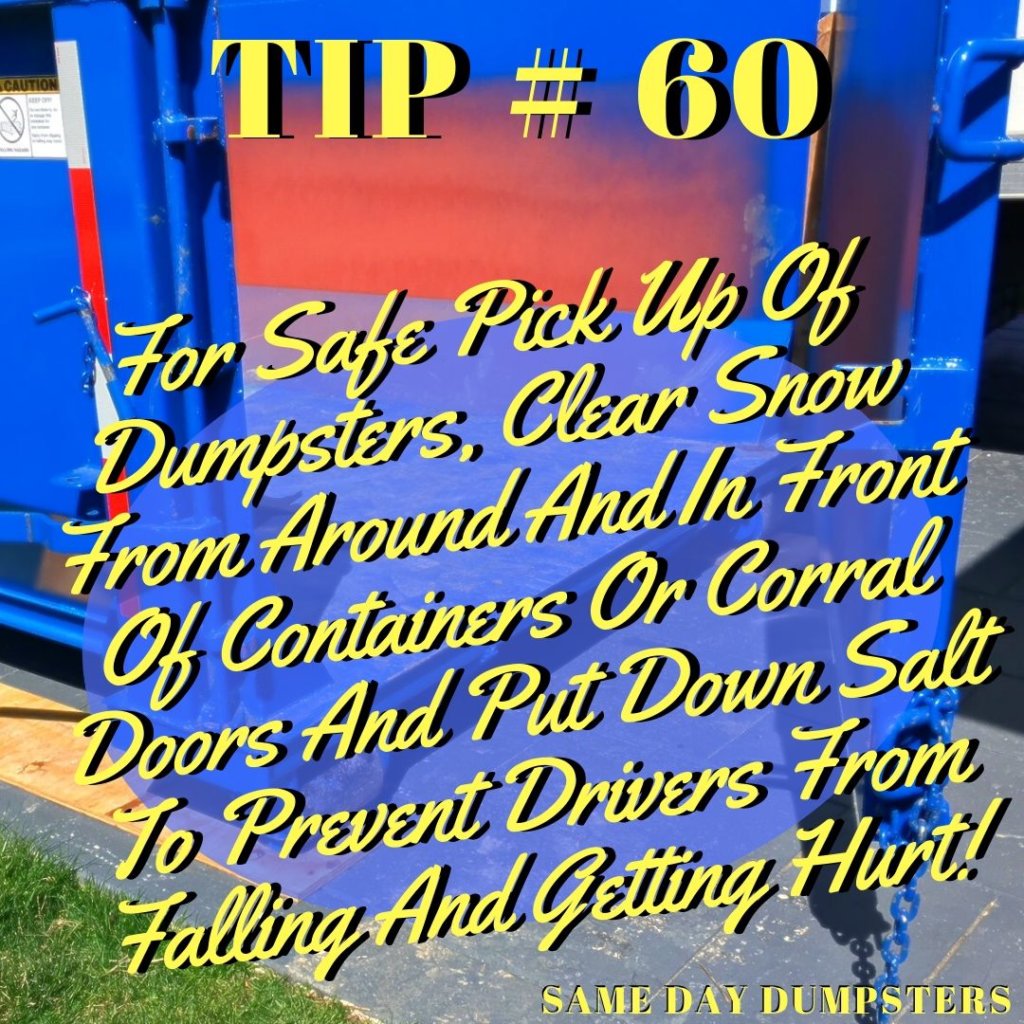 For Safe Pick Up Of Dumpsters, Clear Snow From Around And In Front Of Containers Or Corral Doors And Put Down Salt To Prevent Drivers From Falling And Getting Hurt!
Winter may make the holidays more exciting and create a beautiful wonderland to play in but all of that snow can create quite a problem when it comes to your trash and debris removal.  When it comes to dumpster rentals, if they are on the street, snow plows are pretty good at avoiding them.  However, no matter if they are in the street or your own driveway, you should still clear the snow from around the container so drivers can easily access them for removal.  Also, be sure to put salt or some sort of de-icer down around the container to reduce the risk of sliding containers or drivers injured from falls.
In the case of regular garbage, make sure your containers are far enough away from the street so they are not hit and subsequently tipped over by street plows.  If you aren't using containers, use dark-colored trash bags so workers can clearly see them among all the snow.  You may even want to put them out in the morning instead of the night before so fresh snow doesn't accumulate on them.  Remember, if snow is covering your trash, it is much harder for workers to find it for disposal.  Be sure to clear a path around cans so trucks and workers can easily grab containers to dump.
In cases of severe weather, some waste management companies will post-pone trash pick up.  You can save yourself a needless and possibly risky trip by checking with the waste management company about trash schedules.  Your town hall might even know or be able to provide you with the appropriate contact information.
As far as dumpster rental companies like Same Day Dumpsters, there is rarely a time when we post pone services.  We deliver in various kinds of inclement weather – it would take the craziest storm of the century to stop us.  If you aren't sure if your dumpster rental company is operating in a particular set of weather circumstances, call and ask.  Chances are they can have a dumpster to you before you know it!