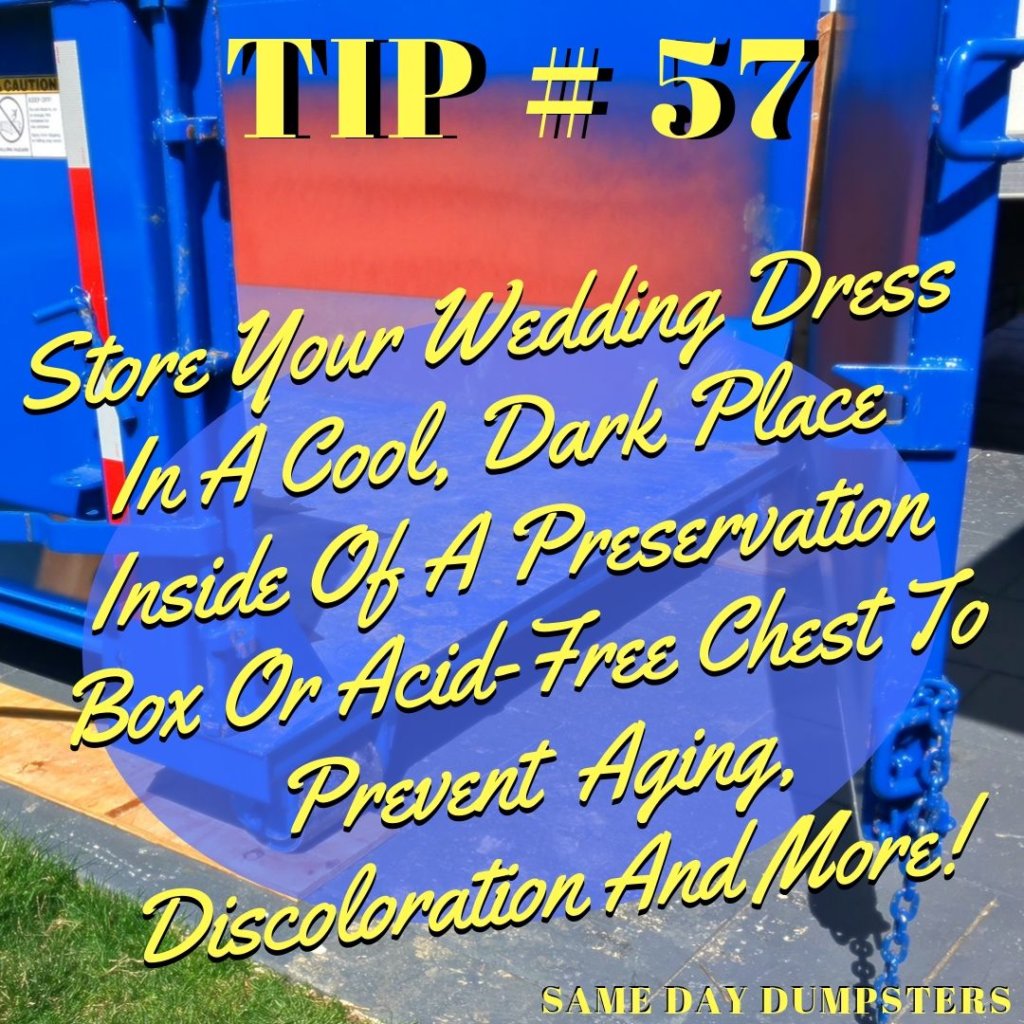 Store Your Wedding Dress In A Cool, Dark Place Inside Of A Preservation Box Or Acid-Free Chest To Prevent Aging, Discoloration And More.
Before you store that wedding dress as a keepsake, you need to make sure you take the proper precautions to ensure it holds up over time.  First of all, make sure the dress is properly cleaned.  This doesn't mean simply run it to the dry cleaners and slap it in a bag.  You will need to use a cleaner that specializes in wedding gown preservation.  They create a treatment plan based on the fabric, stitching and details and how to properly eliminate current stains.  Some dry cleaners claim to be able to do wedding dress cleaning but be absolutely sure they are capable of doing so.  Cleaning wedding dresses should ONLY be done with virgin solvents.  If they use recycled solvents, run.  Also make sure to understand the policies of whomever cleans the dress to ensure that if they damage it they will replace not only the cost of the preservation but the cost of the dress as well.
Your dress might be full of invisible stains but most professionals are trained to spot what can't be seen so you don't have any nasty surprises pop up down the road.
Make sure you get the dress cleaned as soon as possible.  Time is of the essence in this matter.  Take your dress off after the reception and make sure it gets to the preservation specialist the very next day.  If you are leaving for your honeymoon, have a bridesmaid or family member take it for you.
To prevent oxidation and other damage from sun, dust, dirt and air, your dress needs to be placed in an air-tight chest or box.  Usually they are stored in acid-free preservation boxes where the oxygen has been sucked out and replaced with nitrogen.  Once it is sealed, be sure to never break the seal.  If, for some reason, you have to open it, handle the dress carefully using white cotton gloves and make sure you get it resealed and preserved after you are finished.
When it comes time to storing your dress, whether it is in your closet or a climate-controlled storage unit, make sure it is never in direct sunlight and kept in a cool, dark place.  Under no circumstance should you ever store the wedding dress in a plastic bag on a hanger for long-term.  Plastic bags hold moisture and can discolor a dress and hangers can cause your dress to become misshapen.
If you preserve a wedding dress on your own:
use white cotton gloves to handle
use soft-bristled brushes
never use bleach
once dry, wrap dress in acid-free tissue paper (no colors) or unbleached muslin and stuff the bust, sleeves and folds of the dress with tissue paper
use an acid-free chest or preservation box to store the dress
make sure where you store the dress has cool temps – never store in a place where humidity might become extreme, such as an attic, garage or cellar
check your dress every 2 to 3 years to make sure no invisible stains are coming forth and no permanent creasing is occurring
You can also save your bouquet and shoes if they hold significance for you as well.  For shoes, ask a preservationist if they can be kept with the dress.  If not, make sure to clean them really well, wrap them in acid-free tissue paper (no colors) and store them in a box.  You can press your flowers, hang them and then coat them in wax or epoxy resin to preserve them.
In the end, it is your choice how you would like to preserve your precious memories.  If you are worried that you might not be able to preserve your dress properly, it may be a good idea to include the price into your wedding budget.